Dr. Kenrick Semple recently graduated from the University of South Florida (Tampa) with a Ph.D. in Medical Sciences (Generation and Application of Regulatory T cells in Bone Marrow Transplantation).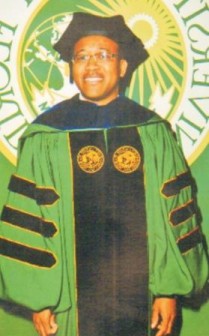 Kenrick attended Bygeval Multilateral, Mahaicony Secondary and the University of Guyana. He also attended the Church of God of Prophecy at Mahaicony.
Best wishes are extended by his wife, Sheron; son, Jaden; Mom, Kathleen; siblings Selwyn, Sherlyn, Hugh, Camille, Rhonda, Audrey, Conrad, Loraine Marcia, Leslyn; brothers-in-law Lethem, Kailyn, Glendon, Wynn; sisters-in-law Raffi, Penelope and Oslyn; Aunt, Elfreda; Uncle, Fitz and other aunts and uncles, nieces, nephews, cousins and other relatives and friends.
Around the Web