Several members of the police force hierarchy are under investigation as a result of allegations of ties between them and the drug trade and police this afternoon confirmed that a junior officer has tendered his resignation after being transferred following questioning.
In a statement issued in response to a report in today's Kaieteur News, on "matters discussed at a Senior Management meeting of the Guyana Police Force," the force said it felt compelled to update the public on investigations launched. The Kaieteur News report sourced the allegations to Assistant Commissioner Steve Merai.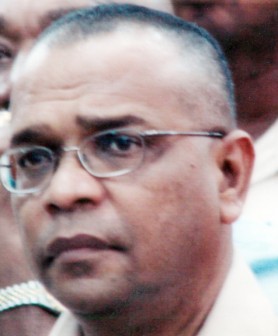 According to police, investigations into the allegations were handed over to the Assistant Commissioner of 'Law Enforcement.' It said Assistant Commissioner Merai had been asked to provide any evidence he has against the officers and other ranks concerned and their associates, "but has not yet done so."
However, police said based on the allegations made and investigations carried out, a Junior Officer who was alleged to have been driving a Fortuna motor vehicle, owned by a female that Merai claimed to be a drug dealer, was contacted. The Officer publicly stated that his vehicle was down and he had indeed borrowed the vehicle from a female with whom he had an intimate relationship, police said. He also publicly said that he neither is nor was aware that his female companion was a drug dealer. "He has been transferred from the Office of the Commissioner and has since tendered his resignation," police noted, while adding that investigations into his associates are continuing.
It was also confirmed that a Senior Officer had borrowed a car from a businessman about two weeks before the allegation. "The Officer in question publicly stated that his motor car had developed mechanical problems and he had borrowed a BMW motor car from the businessman whose family he knew well and that he has no knowledge that the businessman is or was a drug dealer," police said. The Senior Officer has since returned the vehicle to the businessman , while the claims made by Merai about his associates are being investigated.
According to police, Merai had also alleged that three ranks attached to the Tactical Services Unit were providing protection to drug blocks and that they owned several cars. One of the ranks, a Corporal, was contacted and at CID Headquarters he produced documents showing that his wife works at a local commercial bank and had taken a loan from the bank to buy the car he was using. He has no other vehicle.
"It was not established that any vehicles were owned by the other ranks, however, other investigations are ongoing into the allegations of their associations even though specifics have not been provided," the statement noted.
Meanwhile, police also noted that Merai has been written to by the Commissioner of Police Henry Greene to provide evidence to the Criminal Investigation Department of the allegations he has made.
"The Guyana Police Force wishes to state that its resolve against drugs, drug dealers and criminal elements remains strong, and it remains a strong cohesive Force. Elements of the Force found in wrongdoing will continue to be dealt with appropriately. Contrary to the views of some, no cover is provided for these elements. The records of errant ranks are there to show," it added.
Around the Web