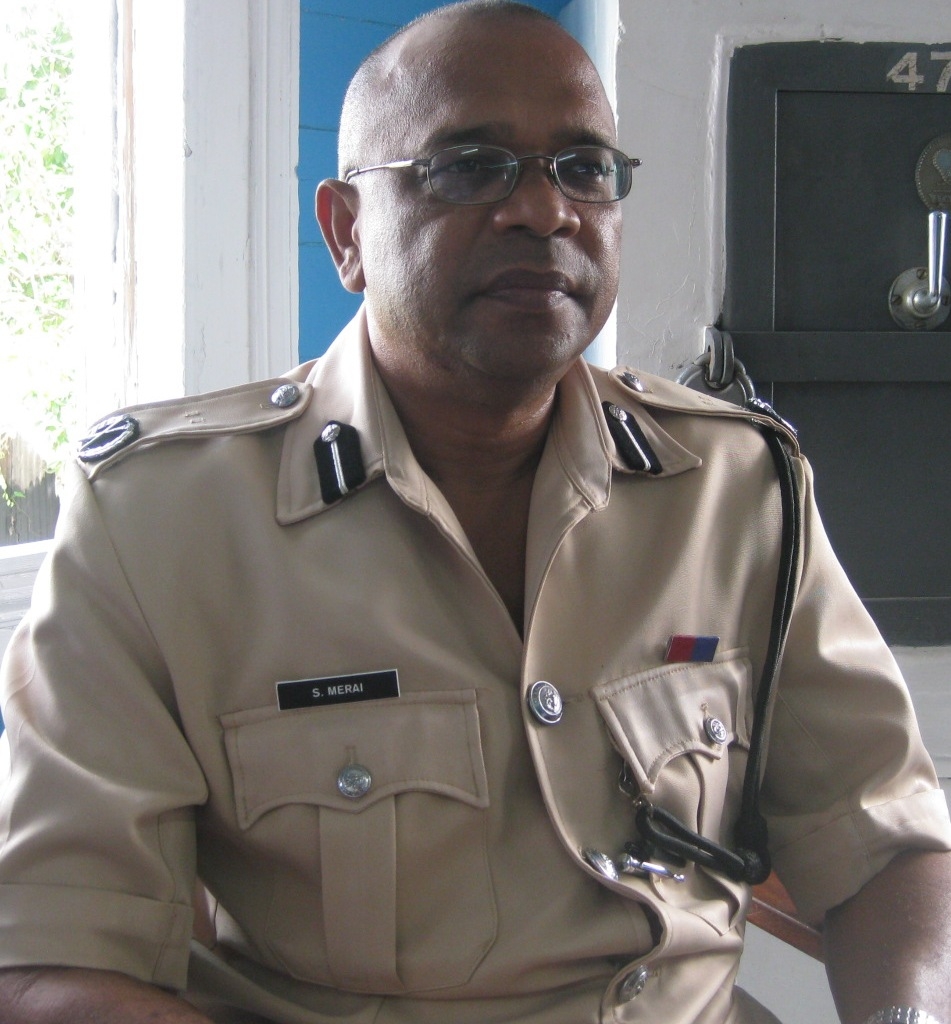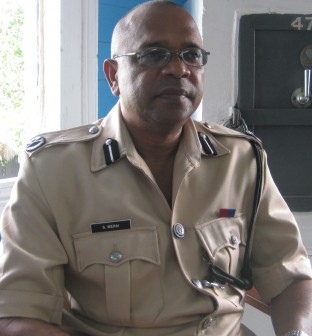 Assistant Commissioner Steve Merai is cooperating with local investigators probing the alleged ties between members of the Guyana Police Force hierarchy and the drug trade, police said in a statement today.
The statement is in response to a news story published in Monday's edition of the Kaieteur News, which said Merai had revealed to "sources close" to him that he would only cooperate with international investigators, while noting that he had informants to protect.
"Assistant Commissioner Steve Merai wishes to inform the general public that at no time did he ever tell anyone that he is more inclined to cooperate with an international Commission of Inquiry and was not willing to cooperate with local police investigators," Guyana Police Force spokesman Ivelaw Whittaker said in a statement.
"He is currently cooperating with local investigators," Whittaker added. In an earlier statement, he said that Merai had been asked to provide any evidence he has against the officers and other ranks concerned and their associates, "but has not yet done so."
Several members of the police force are under investigation as a result of allegations of ties between them and the drug trade and the force has confirmed that a junior officer has tendered his resignation after being transferred following related questioning.
Assistant Commissioner of 'Law Enforcement' Seelall Persaud is leading the investigation.
The allegations have prompted calls for an international inquiry, with both the opposition coalition APNU and the AFC expressing concerns about local police handling the matter.
Police said last week that based on the allegations made and investigations carried out, a Junior Officer who was alleged to have been driving a Fortuna motor vehicle, owned by a female that Merai claimed to be a drug dealer, was contacted. The Junior Officer, who had been assigned to the Office of the Police Commissioner, stated that his vehicle was down and he had borrowed the vehicle from a female with whom he had an intimate relationship, police said. He added that he was not aware that his female companion was a drug dealer. According to police, the Junior Officer was transferred from and subsequently tendered his resignation. Investigations into his associates were ongoing up to last week.
Police also confirmed that a Senior Officer had borrowed a car from a businessman about two weeks before the allegation. "The Officer in question publicly stated that his motor car had developed mechanical problems and he had borrowed a BMW motor car from the businessman whose family he knew well and that he has no knowledge that the businessman is or was a drug dealer," police said. The Senior Officer later returned the vehicle to the businessman.
According to police, Merai also alleged that three ranks attached to the Tactical Services Unit were providing protection to drug blocks and that they owned several cars. One of the ranks, a Corporal, was contacted and at CID Headquarters he produced documents showing that his wife works at a local commercial bank and had taken a loan from the bank to buy the car he was using.
"It was not established that any vehicles were owned by the other ranks, however, other investigations are ongoing into the allegations of their associations even though specifics have not been provided," police noted.
Several years ago, Merai himself had been accused of extorting money from a drug dealer but the investigation eventually petered out.
A recording, which was circulated to several media outlets in June, 2007, featured Merai demanding money from the businessman. He later admitted to this newspaper that it was indeed his voice but noted that the recording was a collection of several conversations. Police, in a statement, had acknowledged receiving a copy of the recording as well as a transcript of the conversation and a letter.
The police said the letter had levelled certain allegations against Merai and an investigation had been launched.
When this newspaper asked Merai to explain his statements on the recording, he said he had been trying to induce the businessman to divulge further details about the drug deal he was involved in so that he could build a case against him. Merai had also said the recording was made by a group of drug dealers angered by his tough stance against drug trafficking. He also said the men had planned to kill him.
Although Merai was relieved of duties as the coordinator of the Impact Patrol following the allegations, he remained in charge of ministerial security patrols. In response to a query about why Merai was allowed to retain this post, Police Commissioner Henry Greene replied at the time that being at the Impact Base meant Merai had to interface with the public and this was not good in light of the allegations.
He said the officer had also been removed a few weeks before the recording surfaced, since he had been charged with making a wrongful arrest.
Stabroek News confirmed that the businessman in the recording had been deported from the US in 1999 after serving time for possession of marijuana, impersonation, possession of firearms and trafficking in cocaine. He had been incarcerated in the Georgia Correctional Centre in the US.
According to the recording, the businessman had collected a delivery of cocaine from another man who resides on the West Demerara, which had been shipped by a Guyanese living in Venezuela. After collecting the narcotics, the businessman had allegedly refused to pay for it and the Venezuelan man and his West Demerara accomplice had reportedly contacted Merai asking him to ensure that the businessman paid up.
Merai was heard demanding US$60,000 from the businessman to settle the case. Merai had told this newspaper that when he heard about the drug deal, he approached the West Demerara man, who admitted that the Georgetown businessman owed him US$710,000 for a shipment of cocaine, but was hiding and not paying up.
Merai said he doubted the West Demerara man at first, as he knew the Georgetown businessman to be law-abiding; however, he said when he approached the businessman with the allegations, after denying involvement the man then offered him US$50,000 as a first payment, following which he [Merai] asked him why not US$60,000.
Around the Web