Office of the President (OP) press officer Kwame McCoy was this morning placed on self-bail after he was arraigned on three charges, including two separate counts of assault.
Two charges against McCoy stem from an altercation with Clifton Stewart on D'Urban Street, Lodge over the removal of A Partnership for National Unity (APNU) posters, during which he is accused of hitting the man in the head with a gun during the argument. The other charge against him stems from an incident where he allegedly ran into a woman with his car.
The first charge against McCoy is that on November 12, on Norton Street, he assaulted Stewart with the intent to cause actual bodily harm. The second charge is that on the same day, he also made use of threatening language to Stewart, thereby causing a breach of the peace.
The third charge stated that on October 25, he allegedly unlawfully assaulted Natalia Ross with intent to cause her actual bodily harm.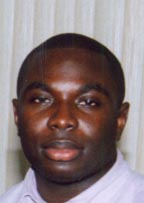 McCoy pleaded not guilty to all three charges when they were read to him at the Georgetown Magistrates' Court One.
Acting Chief Magistrate Priya Sewnarine-Beharry, before whom the matter was called, granted McCoy bail on his own recognizance on the condition that he hands over his passport to the authorities. McCoy was further placed on a bond to keep the peace, pending the determination of the matter that will be recalled on February 21, 2012.
Comments

Gregory Bascom, the city policeman who allegedly fatally shot mentally ill vendor Marlon Fredericks after he reportedly attempted to flee custody on Sunday, was today charged with manslaughter and released on $800,000 bail.


The National Accreditation Council of Guyana (NAC) is advising the public that the American Medical Institution is not registered with the NAC as is legally required for post-secondary and tertiary educational institutions operating in Guyana.

MUMBAI, (Reuters) – India captain Virat Kohli had something to cheer on Thursday when he was named ICC World Cricketer of the Year, a day after suffering his first test series defeat as skipper in South Africa.

Fifteen city councillors voted yesterday in favour of accepting the recommendations of the parking meter renegotiation committee, which would see a reduction in parking fees to $150 per hour, exemptions for religious organisations and schools, and Smart City Solutions (SCS) giving up on their claim to garage parking.

A GDF rank was yesterday remanded to prison over three armed robbery charges and alleged possession of an unlicensed gun and ammunition.