A Bush Lot, West Coast Berbice man who tried to save his sister during an attack by her estranged husband ended up being stabbed yesterday and he is now battling for his life at the Georgetown Public Hospital (GPH).
Labourer Kishan Sampuran, 19, was rushed to the Fort Wellington Hospital (FWH) in an unconscious state. He suffered a "deep" wound to his upper right side chest and "can go into a shock," according to a doctor.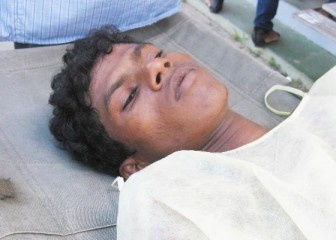 He was accompanied to the Mahaicony Hospital by nurses from the FWH and then taken to the GPH in an ambulance. Police retrieved the blood-soaked knife at the youth's house, where the stabbing took place, and they are still hunting for the attacker.
Sampuran's sister, Rita Sampuran, 24, told Stabroek News that she had left her husband, Mohan Diram, a week ago, following constant misunderstandings. She was at her mother's house yesterday when, around 2:30 pm, her husband walked in and tried to attack her with a knife.
Her brother, who saw what was happening, ran to his sister's rescue and attempted to "lash away the knife with a coconut stave." Diram turned the weapon on him instead.
Rita received a slash on one of her fingers as she tried to wrest the knife from her husband. He also inflicted wounds on his own hands before dropping the knife and escaping.
A neighbour told this newspaper she did not hear the commotion because she had her music playing. She was indoors when she heard the youth screaming for her. He was clutching his chest as he ran down the dam to her house.
She ran towards him but before she could reach him he collapsed, bleeding profusely. Her husband, Paul, transported him and Rita to the FWH.
Around the Web