(Barbados Nation) Widespread exploitation and flouting of Barbados' immigration laws have been given as the main reasons many undocumented Guyanese were asked to leave Barbados.
And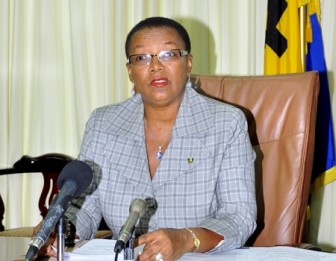 says she is unapologetic for seeking to "bring order to disorder" in the matter, while serving as Minister of State in the Prime Minister's Office, responsible for immigration.
She stated emphatically: "I apologize to no one for seeking to do that while I was Minister in the Prime Minister's Office responsible for immigration.
"We as a country have to protect our standard of living," McClean asserted.
In an interview with the SATURDAY SUN on Wednesday, the straight-talking McClean, who is now Minister of Foreign Affairs and Foreign Trade, explained: "There were persons being exploited – who came to Barbados because of the construction boom, some persons who came to work in agriculture, some people who said they were coming to work in agriculture and once they got here disappeared after a while – who left (Guyana) for economic reasons but who then found themselves being exploited.
"It was not in their interest and it was not in Barbados' interest to have undocumented persons here because they would have been exploited on many fronts."
She said the Guyanese had been victims of exploitation in housing, pay, working conditions and by "persons taking away Guyanese passports".
Around the Web