Legendary broadcaster and philanthropist Dame Olga Lopes-Seale passed away this morning in Barbados. She was 93.
The founder of the Radio's Needy Children's Fund here, she died at the Queen Elizabeth Hospital. She had been ailing for the last couple weeks after falling and breaking her hip.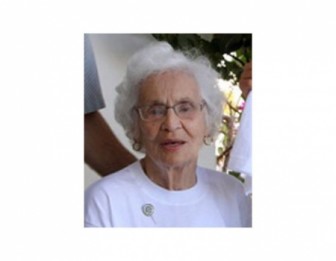 Dame Olga's granddaughter Susan Pascal had told the Saturday Sun then that her grandmother, who was the heartbeat of the Dame Olga Lopes-Seale's Needy Children's Fund, was on Ward A3 awaiting "a decision from a physician to take her to surgery."
"Her hip is broken in a couple of places and right now she is resting comfortably . . . But she is bedridden and she can't move," she said. She was unable to attend her annual children's Christmas party as a result.
Dame Olga had a long career in Guyana as a broadcaster before migrating to Barbados.
On Nov 26 last year she was one of five outstanding journalists inducted into the Barbados Association of Journalists' Hall of Fame.
In October last year, the Theatre Guild here presented 'O' is for Olga, in tribute to the first female broadcaster in both Guyana and the Caribbean.

She was also one of 11 Guyanese Barbadians who were honoured by the Guyana Government in May of 2002 for outstanding contributions.
According to then Guyana's Consul in Barbados, the late Norman Faria, the awardees were "a good mix who have done Guyana proud" and come from a wide range of occupations.
Dame Olga, or "Auntie Olga" as she was affectionately known both in Guyana and in Barbados, went to Barbados in the early 1960s after marrying a Barbadian working in the Guyanese sugar sector. She was then one of "B.Gs" most well-known singers and radio presenters, as well as a leader in the charity programmes she did for needy children.
She continued this good work when she went to Barbados and was employed as a journalist, first working with Barbados Rediffusion. She was well known to many Barbadians for assisting the needy and has received the Barbados Service Star and Golden Crown of Merit from the Barbados government.
She was inducted into the Caribbean Broadcasting Hall of Fame in August 1997, in Suriname. Her citation read as follows:
"If the true measure of broadcasting as a public service is the extent to which it imbues audiences with a sense of community and a spirit of outreach to the least fortunate, then you are this region's great pioneer of Public Service Broadcasting and its greatest exponent.
"Your community instincts were always at work, even in the 1930's when, as a callow youth armed with a mandolin and a winsome voice, you made your first tentative forays into the still virgin territory of radio in your native land, the British Guiana of yore.
"As the years passed, whether you played or sang or ran talent shows or did general announcing, you somehow managed to engage your listeners in charitable causes.  Eventually in 1953, you launched the Radio Demerara Needy Children's Fund which, onto this day, brings sustenance and comfort to thousands of destitute children and families.
"That dedication, that talent, nurtured in the land of your birth, came into full flowering in the land of your adoption, Barbados, where you have lived since 1963.  You took Bajans into your warm embrace, and they hugged you right back.  The Rediffusion Needy Children's Fund became a national institution.  And so did you.
"For the way you used radio to serve the community, you deserve only the highest encomiums, but let us applaud too your other seminal works in the evolution of broadcasting in the Caribbean – the programmes for children and for women, the inspirational programmes, the local talent shows, all of which you pioneered.  And underpinning everything you did, your manifest sincerity, your consummate professionalism as a broadcaster.
"For more than two generations, you strove to bring broadcasting into the community and the community into broadcasting.  In the process, you nourished the one and elevated the other.  In these days when we as broadcasters all too often lose sight of our higher purpose, the example of your life will surely remind us of the best that we can be.
"And so, in the hope that you continue to be not only our inspiration but our conscience, we, the fraternity of regional broadcasters, welcome you, Olga Lopes-Seale, into the Caribbean Broadcasting Hall of Fame."
In his Nostalgia series, Godfrey Chin had described her in part as follows:
"… a Woman for all Seasons, who fulfilled magnanimously the role of Wife /Mother /Radio Announcer / Producer / Entertainment Diva, while superlatively shining, as an indefatigable, energetic Social Worker, in her homeland British Guiana, as well as her adopted home Barbados, since 1963.
"Her warm and friendly voice, her unselfish demeanour – together with her caring personality, touched the lives of thousands. Often called the Vera Lyn of the Caribbean – her songbird rendition of inspirational songs, was legend. Her humble deeds, and larger than life's work, fulfilled every word, of her favorite song, the motto of her enriching life……..
"If I can help somebody as I pass along – If I can cheer somebody, with a word or song
If I can show somebody, who is travelling wrong, – Then my living, shall not be in vain."
"Yes – She touched this soul, and made such a difference, that humbly I share this Tribute, on behalf of all the others, whose lives, 'this Angel' also touched, and changed. Auntie Olga, was born on Boxing Day – She was herself 'A Living Gift of the Magi'. Remarkably, she did not have a High School Education – not even Credit for good attendance – nor any formal training, in Broadcasting. Yet, she was inducted, in the Hall of Fame of Broadcasters in 1997. She was anointed in 1961, a Member of the Order of the British Empire, for her kind unselfish humanitarian efforts, and for her outstanding contribution to Broadcasting, in her native Guyana. She also received a long list of Awards and accolades, as she continued her Charity work, in Barbados."
Around the Web