(BBC) The Prime Minister of St Vincent and the Grenadines appears to be turning up the heat on Trinidad and Tobago, the richest member of the Caribbean Community (Caricom).
First, Ralph Gonsalves was unhappy with the response of the administration in Port of Spain to the mess left behind in the Eastern Caribbean by the collapse of the Trinidad-based C L Financial empire in January 2008.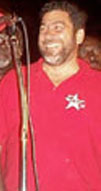 Now he is less than thrilled by a decision of the Trinidad government-owned Caribbean Airlines to offer direct competition to Liat, whose main shareholders are three Eastern Caribbean governments.
In both instances, Dr Gonsalves has spoken derisively of not being "somebody's colony".
"… St Vincent and the Grenadines did not become a member of Caricom to be part of a colonial periphery to a metropolitan other in our region," he told parliament last month.
Manning promise
At the time he was speaking about almost certain losses by Eastern Caribbean policyholders and investors in British American Insurance Company (Baico) and Clico, two of the firms left adrift by C L Financial's troubles.
It is a point he repeated on Wednesday when discussing the Liat-Caribbean Airlines affairs.
Dr Gonsalves has made it clear that the election victory last year of the administration of Prime Minister Kamla Persad Bissessar was a setback in efforts to find a solution to Baico.
The new government is said to have reneged on a promise by the previous Patrick Manning administration to put US$100 million into a rescue effort for the insurance firm.
In his speech to the House of Assembly, Dr Gonsalves seemed to be delivering a lecture to Port of Spain on its responsibilities within the Caricom single trading market.
Single market
He said: "It is evident to all objective persons that the government of Trinidad and Tobago has a central practical responsibility to be at the forefront of a regional solution to Baico.
"How can there be a regional integration movement worth defending, promoting, or participating in, if a proper regional solution is not found to Baico and Clico (another C L subsidiary) so as to protect the policyholders and investors.
"Further, the regional integration movement is unlikely to survive and thrive if there is a sense and reality that the members within it are unequally yoked and the benefits therefrom are skewed overwhelmingly to one or two member states."
He said that all single market treaties have in place measures for special and differential treatment for less developed countries, such as those in the Organisation of Eastern Caribbean States (OECS).
Moves to correct "unevenness", he added, can never be labelled as akin to the operation of an ATM machine – a reference to statement from Mrs Persad-Bissessar for which she has since apologised.
Cheap energy
It was a "treaty comitment, not a discretionary option."
The Trinidad and Tobago leader had warned member states that they should no longer expect her government to be an automatic cash cow when Caricom was short of money.
Dr Gonsalves also said that he also expected Barbados, where Clico was the dominant CL subsidiary, to act "sensibly" in the insurance matter as well.
On Liat, the dispute seems to be lack of consultation and concerns that Liat will not compete on a level playing field with Caribbean Airlines which benefits from cheap Trinidad-produced energy.
"Frankly, I find it very strange that officials from the government of Trinidad and Tobago and (Caribbean Airlines) could be talking about Liat as though they own it, that they will come into the Eastern Caribbean and it is only a matter of time that they take over Liat."
Dr Gonsalves said he doesn't doubt Port of Spain's commitment to Caricom but he wants to see it backed up by action.
He said he was looking forward to this month's Caricom summit in Grenada "as a possible moment for us to collectively prod Caricom out of its lethargy."
Around the Web