Inderjeet 'Rickey' Parmanand, of Betsy Ground, East Canje was shot by bandits as he attempted to prevent them from invading his home early yesterday morning.
Parmanand, 27, a welder, protected his property by "firing chops" at the bandits as they were breaking in and he chopped one of the men on his forehead.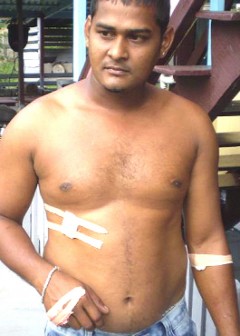 Although they were prevented from entering, they discharged several shots, two of which hit Parmanand to his stomach and right hand. He received treatment at the New Amsterdam Hospital.
His mother, Naline Parmanand, was trembling with fear during the ordeal while his father, Satish 'Par' Parmanand, a welder and boat builder, was not at home.
The four bandits, who were armed with one long gun and two short ones, a cutlass and knives, went on a rampage at East Canje and had already terrorised and robbed two other families of a quantity of gold jewellery.
They first broke into the home of Natrootan Persaud Judisteer, a cane harvester who resides with his wife Gangawattie 'Chiney' Judisteer and their three sons and their daughter. They escaped with $265,000 worth of gold jewellery. Gangawattie told Stabroek News that she and her husband were awake and were lying in bed when they heard a strange noise around 3 am. At first, they thought that cats were knocking down her sons' bird cages.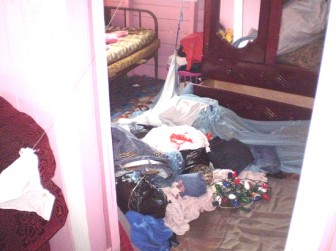 Before they could investigate, two of the men were already in their bedroom. One held her at gunpoint and another gunman took her husband upstairs. The bandit demanded that she handed over her gold jewellery and accused her of "buying thiefing gold." She went to a drawer and only took out a portion of the jewellery and gave it to him. He was not satisfied and insisted that that could not be all. He decided to search the drawer and removed the jewellery and placed them in a bag. He then took her upstairs, where she saw her husband and sons on the floor with a gunman  over them. The bandit ordered her to join them but she refused and told them she would sit on the chair instead.
Two of the bandits ransacked an unoccupied bedroom and broke a wardrobe door in the process. Not finding any valuables, one of the bandits got mad with his accomplices and asked: "This is what yuh bring me here for? They don't have nothing hey."
The bandits went to the veranda and commented that "nuff people dey out on the street." Gangawattie said "but dem still tek the chance and run out." As the men were escaping, they grabbed her sons' birdcages with two birds, which were recovered the next morning on the "creek dam."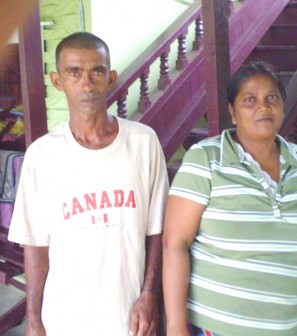 The woman recalled that about 10 minutes after the bandits left, she heard screams coming from the nearby home of her husband's nephew, Mahendra Judisteer, a cane harvester. Mahendra's wife Nalini Ramdat stated that around 3:20 am she had gone to the kitchen in the lower flat to prepare food for her husband when the bandits broke in. They placed her husband on the floor and asked him "Weh de gold chain yuh does wear?" The bandits also demanded that Nalini removed all the jewellery she was wearing. Her wedding band took a long time "to come off and one of dem watch me full in meh face and scramble it."
According to her, the bandits asked her for the money and she told them that they did not have any. One of the bandits then told his accomplices: "Dem don't have money home. Leh we go."
The police responded promptly but the bandits had already escaped. That was the second day in a row that bandits wreaked havoc at East Canje.
Around 1:30 am on Thursday, three armed, masked bandits robbed Shawhadeo Wengagloun, 20 of Canefield, Canje. Police had said in a release that Shawhadeo Wengagloun was asleep when he was aroused by the men, who had entered the home after smashing a louver window. The men held him up and took away a cell phone and a wristwatch, after which they escaped.
Reports are that the bandits proceeded to the home of Fazeela Hussein, 27 and her husband Wazim Yashwardeo of Canefield, Canje and robbed them of gold jewellery worth $45,000.00. They gained entry to the house by smashing a glass window.
They then broke into the home of Suresh Sooknan around 3 am. They terrorised him and ransacked his home but escaped without taking anything, police said.
Around the Web