An upset Lichfield, Berbice farmer says that he might have to invest in his own hatchery since the National Agricultural, Extension and Research Institute (NAREI) has capped the amount of eggs it accepts for hatching.
Joseph Moore, who travelled from Berbice every Monday to have his eggs hatched, said that he and other farmers were surprised this week when they were informed that NARI was no longer accepting eggs. A February 17 notice, addressed to all duck farmers, which was provided to this newspaper by NAREI veterinarian Dr. Nardeo Bassoodeo, stated that due to the drastic increase in duck production at the NARI Livestock Farm, the institute "is forced to reduce the intake of all eggs we are now accepting at the hatchery facility from livestock farmers." The notice said that with immediate effect, the hatchery will reduce the intake of eggs by 50 to 70%. It added, "This steep increase in egg production is as a result of the new and improved management systems that the institute had implemented at the Farm."
This newspaper was unable to ascertain if the notice was televised or printed in the newspapers.
When Stabroek News had contacted Dr. Bassoodeo for a comment on Moore's concerns, he said he was not authorised to speak with the media. He referred this newspaper to NAREI Director Dr Oudho Homenauth, who said that he too could not speak with the media. Dr. Homenauth referred this newspaper to the Ministry of Agriculture.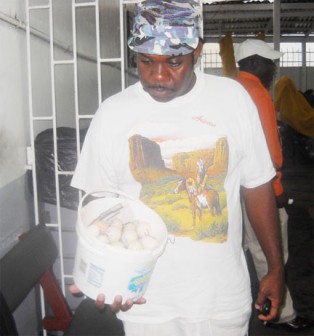 Meanwhile, Moore, holding his bucket of duck and chicken eggs, was furious when he visited this newspaper on Monday.  He explained that since 2006 he has been taking his eggs from his farm in the Abary Creek to the NAREI hatchery. He noted that when his wife took some eggs last Monday, she was told that on the next occasion she should bring 50 eggs. As a result, during the week Moore managed to gather 51 duck and chicken eggs and travelled from Berbice to NAREI. However, when he arrived, Dr. Bassoodeo informed him that the Institute would no longer be accepting poultry eggs. "If I had known, I wouldn't have brought them. They didn't even put it in the media or give farmers time. Now, what I supposed to do with these eggs?" the upset farmer asked. He said that NAREI has his numbers and at no point did anyone call to inform him about the new decision. The man said that Dr. Bassoodeo advised him to speak to his superior but he got no satisfaction. He subsequently went to the Ministry of Agriculture and left with the understanding that someone would call him with an explanation. That call never came, he said.
Moore explained that he takes his eggs to NAREI's hatchery because "my fowls ain't setting." He said that in light of the NAREI decision, he may have to invest in a hatchery. "I don't know what to do. Look is how much eggs I got hey. If you calculate it, eggs cost three for $100 and I waste gas to come here," he stressed.
He noted that recently he lost 34 chickens and he was depending on the birds he would have gotten from the hatchery. "If you can't provide a service to the public, put a notice in the newspaper! If that had been done I would have been satisfied," the farmer said.
Around the Web