PNCR presidential candidate David Granger says he is not going to respond "at this time" to the attack on his character by President Bharrat Jagdeo at Babu John, Port Mourant.
Granger is weary of the questions over his role in the rigged 1973 elections and he has lumped recent statements by the President into the category of "untruths" which continue to plague his presidential bid. "I'm going to respond, but not at this time… I have addressed this issue," Granger told Stabroek News yesterday.
President  Jagdeo condemned Granger during an address at Babu John in Berbice on Sunday saying the PNCR nominee is characterized by repression and that he has "blood on his hands" from that period in the country's history. The occasion was an observance to mark the 14th death anniversary of former President of Guyana and founder of the ruling People's Progressive Party (PPP) Dr Cheddi Jagan.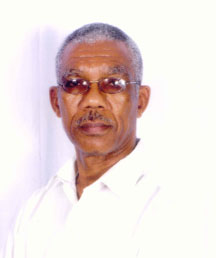 Jagdeo spoke of a lack of democracy during the PNC's time in government and referred to Granger as someone who was every active during "that era of repression." He added, "I say this because they have gone backwards, they have gone backwards to choose someone who is characterized by repression and who has blood on his hands."
Jagdeo said too that people were killed protecting ballot boxes in the full knowledge of people like Granger, and he called on the elders in the gathering to educate young people about that period and what happened. "Someone like Granger could succeed because young people do not have a memory of the 70s and 80s… in each of your families talk to them," the President said.
But Granger, speaking on Friday last, said a judicial commission of inquiry into the Corentyne incident clearly outlined who the intellectual authors were. "I was not on the scene; I've never rigged an election and I've never shot anybody on the Corentyne or anywhere else so I don't know why people make these false accusations against me," he told reporters. "I have no intentions of deliberating on the matter further and or discussing it because it is an untruth. I think people have brought up the issue in order to distract the public from the main problems facing the PPP in security," Granger continued, while noting the security situation needs addressing.
He opined that persons within the administration should not bother with what happened 38 years ago, but instead focus on what has been happening over the last ten years under this government, "where the murder rate is doubled that of the US, where we have two armed robberies a day… that is what they need to be concerned about," he added.
At Babu John, President Jagdeo also threw punches at the AFC, saying the real reason Raphael Trotman declined a key position this year was his lack of faith in the party's ability to succeed at the polls and not health reasons. He said Trotman was not as sick as people have been led to believe.
He also slammed the party's economic advisor Sasenaraine Singh, saying he wanted to be Minister of Finance but boasted a poor track record. Singh was fired from every agency where he has ever worked, Jagdeo said, adding, "I gon put a man like Sasenaraine when I had people with the calibre of Ashni Singh from working with me… he was mad!"
According to Jagdeo, Singh made a mess of a single project when he worked for government prior to the 2006 elections.
Still on Singh, Jagdeo said, "He can't run a cake shop, their economic guru… they think this thing is for show and want to get political power but they don't have any commitment; the ideals that we believe in." He charged that political power means service, while noting that his party has demonstrated this over the years.
Around the Web