A two-year-old boy died in an early morning house fire in the Vryheid's Lust Squatting Area, East Coast Demerara yesterday.
Nicholas Maraj's burnt body was discovered in a bedroom of the house he shared with his mother, his grandmother and two cousins, after it was razed by a fire of unknown origin.
Police said yesterday that they were investigating the case. It was unclear when the fire service was alerted, but residents said the fire truck arrived on the scene "when everything done."
The fire occurred around 9 am and Nicholas and a three-year-old cousin, Anthony, were the only persons in the house. Their grandmother, Pulmat Singh, said she left around 8 am to take her granddaughter to nursery school. Nicholas and Anthony were left in the care of their great grandmother, Catoon Alli.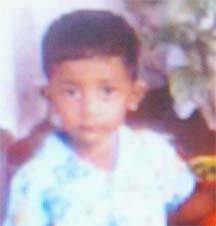 Alli, who resides in a house at the front of the property, was washing outside when Singh left. She told Stabroek News that when she was finished, she returned inside and soon after called for the children. "An' I ain't seein' dem," she recalled.
According to Alli, although she smelled smoke soon after, she initially assumed her neighbour was burning rubbish. Shortly after, she made a check on the back house and saw fire in one of the bedrooms. Alli shouted for her great grandchildren, but only the older child managed to escape. Nicholas, she said, "lil an' he nah able fuh run an' he musse lef in deh."
Anthony, who apparently witnessed the start of the fire, remained speechless. Accord-ing to Singh, he "say all he know he see de thing and run out." She noted that Nicholas was asleep when she left.
At the scene, Natasha Maraj, Nicholas's mother, was inconsolable.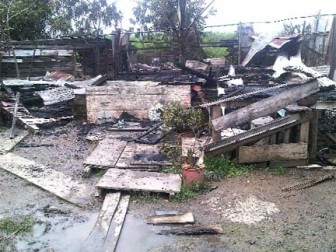 Meanwhile, both Singh and Alli said that they are at a loss as to what caused the fire. They had no electricity problems and the children were not known to play with matches, which were usually kept out of their reach.
Alli's screams had alerted neighbours, who came out and formed a bucket brigade to put out the fire. Next door neighbour Prudence Thornhill said she was at home washing dishes when she heard a scream. However, she did not treat it as anything unusual and continued about her business. However, Thornhill soon heard a scream for "fire!" and she recognised Alli's voice. She dashed downstairs with a bucket to assist. She even tried to open the door to the burning house but when she pushed it the heat was too much. Upon looking over at her own house, Thornhill saw that the fire was about to catch to it. She quickly called her uncles and they doused the house with water, saving it. However, the heat was so intense that the windows closest to the burning building all broke and the pipelines melted.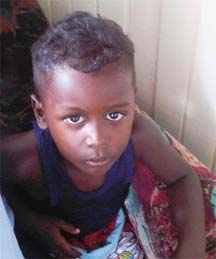 Later, amid wails of despair from his family, undertakers from the Lyken's Funeral Home removed Nicholas's charred remains.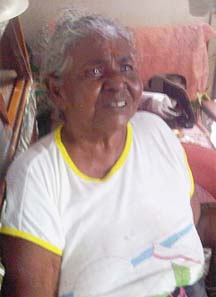 Around the Web