Broadcaster, CN Sharma says government continues to politically victimize him by rejecting his application to extend his broadcast across the country.
Sharma has been complaining for years about the administration's failure to enact broadcast legislation, and he recently raised the issue saying that his business has suffered because of the treatment meted out to him.
"Enough is enough! I am tired of the constant deceit of the government about the promised broadcast legislation," Sharma said in a letter which was published in this newspaper on Sunday last. He accused President Bharrat Jagdeo of betraying the agreement between himself and former President, Desmond Hoyte and of, "using the excuse that the Broadcast Authority has not yet been formed" to deny him his right to extend his service to Berbice, Essequibo and Linden.
Sharma said his business and his family have suffered because of the victimization, adding that the President appears to have a problem with him. He said too that Jagdeo is using the portfolio of Minister of Communica-tions against him and any private broadcaster who is not supportive of the PPP.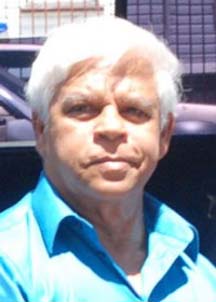 Sharma, as he had done in the past, pointed to the National Communication Network (NCN) operations in New Amsterdam. He noted that 10 years ago NCN did not operate a tower and a transmitter located in New Amsterdam for which a licence is needed, but that one is there now. "I therefore conclude that whilst the NFMU has been used to restrict some television stations from expanding, they have not done so in the case of NCN and government-friendly stations," Sharma charged.
"General elections are getting closer, and it is clear that the ruling party does not want the other contesting parties, including my own, to be able to reach out to the entire nation through television.  It is a gross violation of our rights. It is most unfair that, while myself and other political parties are restricted in this manner, the PPP over the past 10 years has been able to reach the entire Guyana coast and Linden through the state television (NCN Ch 11) in violation of the government's own policy."
Chief Executive Officer of NCN, Mohamed Sattaur told Stabroek News yesterday that Sharma continues to raise an issue which had been addressed. He said NCN was conceptualized as a national station and as a result, various frequencies were allocated to the station in the Berbice area. Sharma applied for a licence as a single broadcast station, he said.
Sattaur said NCN's range therefore covers Georgetown, Linden, Berbice and Esse-quibo, and the station also has licenses for relays which it does not use. He said too that NCN re-assigned its grid after conducting some studies in the Berbice area.
"Government is preventing me from reaching my full potential as a businessman and in doing so, they are also depriving me of my constitutional right to free speech. As a Guyanese businessman and television station owner, I have the right to be able to reach all across this country with my transmission signal, especially since it is now apparent that the excuse he used to deprive me of expanding my service for 10 years was a farce," Sharma said in his letter.
Sharma also made mention of the new education and inter-faith channels which are to be introduced, adding, "this move exposes the gross disrespect that President Jagdeo has for meaningful dialogue and agreements between government and any other party".
According to him, this should not be allowed to happen and all television stations and media outlets should be allowed a level playing field.
Further, he expressed hope that the regional and international organizations, the international financial institutions and the diplomatic community are taking note of the attitude of the administration towards him and other private channels.
Around the Web