An ex-employee of the Correia Mining Company's security service has been detained for questioning into Monday's armed invasion at the Ogle Airport, which resulted in the death of a guard and the theft of guns and ammunition.
Crime Chief Seelall Persaud told Stabroek News that a former employee was arrested and was assisting police with investigations into the pre-dawn raid. The former employee was arrested some time on Monday.
Persaud explained that the ex-worker was held based on background checks. He noted that the perpetrators picked their targets well and concentrated on specific areas at Trans Guyana Airways, which is owned by the Correia Group of Companies. "They knew where to go and we feel it was something inside," Persaud added.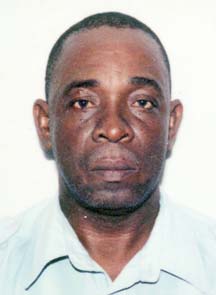 Persaud also noted that the recordings from the security cameras which captured the incident "aren't good," and pointed out that the cameras themselves "aren't good." This development, several sources pointed out, would hinder the investigations as the faces of the perpetrators are not clear.
Security guard Solomon Burke, 55, of Vigilance South, East Coast Demerara, was killed in the attack, which occurred around 3.45 am. Police said four men armed with firearms broke into the security office at the Correia Mining Company and carried away two Remington 12-gauge shotguns and 37 cartridges, two .32 Taurus pistols and a number of rounds, and four bulletproof vests. They also took away $100,000 and an electronic scale for weighing minerals. One of the stolen bulletproof vests was recovered a short distance away from the airport.
This newspaper was told that the men confronted Burke, who was sleeping in a minibus owned by the Correia Security Services, to which he was attached. Burke, a former soldier, may have attempted to escape the men and he was shot in the chest at close range in the process. Reports are that the bullet exited through Burke's back and he died on the spot.
At some point, the gunmen cut off the electricity supply to the building before storming into the security office and torching a safe, where the weapons were being stored.
Around the Web