Residents living in communities along the Mahaicony Creek, repeatedly flooded over the last month, are considering moving from the area as some fear that the water may take another month to recede.
The communities along the waterway had been under high levels of water ever since La Nina took aim at low lying areas along Guyana's coast this year. However, persistent rainfall since February 20, coupled with water released via the Maduni and Lama sluices from the East Demerara Water Conservancy (EDWC) twice within the past two weeks have seen several homes and farmlands swamped.
During a visit to the communities along the Mahaicony Creek yesterday, farmers there told Stabroek News that flood waters have many of them contemplating relocating from the area and according to them, while the authorities would provide support in the form of seed and fertiliser as well as finance, they have proved to be futile.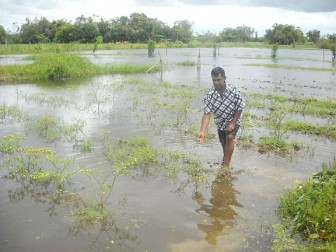 Livestock farmer Sundar Arjoon at Pine Ground, Mahaicony Creek said he has lost some 35 goats and more than 18,000 fishes (hassar), which he had been rearing for sale. He said that in 2006 and 2009, he suffered similar losses and that in time to come, the communities along the water way may be deserted.
Arjoon said the authorities had been giving assurances to farmers that they would be compensated for losses suffered over the years. But according to him, "the more you build up yo land is the more yo feeling the squeeze."
He said that since February 20, when the country experienced the first in series of week long periods of rainfall, his community and others along the Mahaicony Creek had been inundated. "Right now I just frustrated because  we do all we could to make a living and dem jus do this to we like and damage we whole life," Arjoon fumed as he held up several tiles dislodged from his kitchen floor.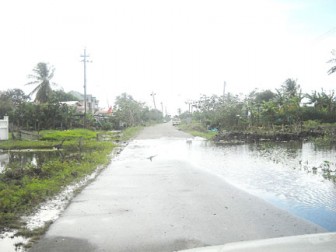 His neighbour, Gajanand Singh, told Stabroek News that he was "tired" of losing livestock. According to him, over the years the community has seen many persons migrating from the area because of frequent periods of flooding. He said his wife and children had left the area to live with other relatives three times in the past. The current situation has left him now contemplating moving from the area. "The government suppose to provide fuh awe but every time the conservancy rise we does feel it because we ah the only people in Guyana who living in blight area," Singh stated.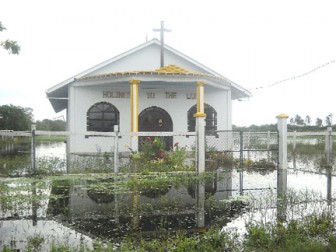 Further down the Mahaicony Creek at Garden Table, farmer Deolall (only name given) was harvesting what remained from his cash crop farm close to his home. He said that some two weeks now his farm had been under water and prior to that, he made valiant efforts to build up the area. However, following the controlled discharge of water by the board of the EDWC two weeks ago, his efforts were washed away. He said he understood "the situation" and "it better if people in town get protected when them release water hey, but at the same time we suffer hey and I think they should find a way to fix it… is long now this happening."
Deolall noted that some farmers received cash compensation in the past while others received fertiliser and seeds. "The seed that I get last time was a plum shape tomato and some pepper that nah deh pon the market," he said. According to him, it will take months before he can recover from his losses. He added that another four inches of water would see the built-up foundation of the bottom flat of his home being covered by water.
A rice farmer at Pine Ground said he lost some 60 acres of rice last week. In another 30 days, he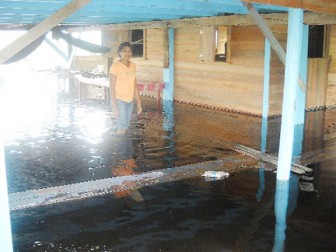 said, the plants would have been ready for harvesting. He said he had no other alternative yesterday but to watch his "investment duck."
At Macouba, Inderpaul Ramnauth, 72, was pumping water out of his small cash crop farm while making attempts to save his crops, which included boulanger, pepper and bora plants. Ramnauth said he already suffered huge losses in the past and as a result he stopped planting rice. "Right now, I jus sticking to my small farm here and trying meh best to save it by packing dutty (mud bags) and pumping water out of the area." He said that he had already lost several heads of boulanger and peppers on another section of his farm last week.
Residents along the Mahaicony Creek noted that a five foot dam which was built to empolder the main farming areas along the left bank of the waterway had been breached in several parts. It was noted too that several kokers along the dam had been left open, and waters subsequently flooded several farmlands in the immediate vicinity.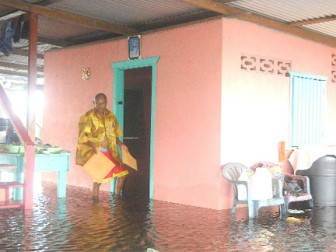 They said that several officials from the Ministry of Agriculture (MoA) had visited the communities and given assurances that the residents will be compensated for losses.
At Wash Clothes, Mahaicony, several homes were inundated yesterday and several residents were making provisions to place their cattle on higher ground. Residents said the area would have been under as much as 12 inches of water as the Mahaicony Creek swelled within the past two weeks.
Other communities along the Mahaicony 'Branch Road' were also under water and several householders were making efforts to clean up their homes yesterday as many expressed hope that the rains would ease.
Meantime, the Indian Arrival Committee (IAC) announced in a release that it had carried out flood relief activity in the swollen Mahaica and Mahaicony creeks on Tuesday, during which a total of 160 hampers, which included groceries and other items, were distributed.
In the Mahaica Creek, the items were delivered to Grass Hook and Big Baiboo while the communities of Pine Ground, Garden Table and Macouba at Mahaicony Creek benefited from the relief effort. The IAC officials were assisted by agriculture officials from the Region Five administration.
In recent times, communities along the Mahaica and Mahaicony creeks have faced the brunt of flooding along the coastland as the water level within the EDWC reached threatening levels. Works to the much debated Hope Canal, which is being constructed to relieve the areas of floodwaters remains hampered by inconsistent weather patterns.
The Hydromet Department of the MoA has noted that as La Nina continues several areas along the coastland would experience higher than normal levels of flooding and residents were being cautioned to take all necessary precautions.
Around the Web