The Guyana Power and Light Company (GPL) now faces penalties if it fails to respond to customer complaints within a set timeframe under new customer service standards.
GPL developed the standards in consultation with the Public Utilities Commission (PUC), following the passage of the Electricity Sector Reform (Amendment) Act 2010. The new schedule of standards was recently approved by Prime Minister Samuel Hinds.
PUC Chairman Prem Persaud said yesterday that the Act offers the Commis-sion "more clout" to put pressure on GPL to provide a better service for consumers. The standards spells out penalties to be applied to the company, through credits to consumer accounts that must be paid by the company if and when found in breach of the timeframes.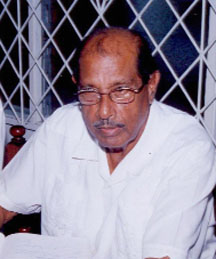 Persaud noted that the commission made representation on behalf of consumers last year and was able to secure some $7.5 million in credit from the three utility companies. Of that sum, $6.51 million came from GPL.
The fines as a result of the breaches of the new standards will be payable to consumers via a credit to their account with the power company, Persaud said, while noting that his office intends to monitor the institution of the new service standards.
With the new rules in place, GPL is now required to complete reconnection for consumers in Georgetown within two days and three days for persons living outside the city, provided that the meter and service lines had not been removed and reconnections fees are paid. In instances where the meter and service line were removed upon disconnection, a maximum of seven days is allowed.
Penalties for exceeding the time allocated to the power company will be $2,000 for the first day for commercial entities and $3,000 per day after that to a maximum of $8,000 and residential services $1,000 for the first day and $2,000 per day for each succeeding day to a maximum of $5,000. Where the company exceeds the allotted time for a new services and a primary/and or secondary network is needed for commercial consumers, a fine of $4,000 per day will be instituted, to a maximum of $40,000 and for residential consumers $2,000 per day to a maximum of $20,000. When only the service line and meter is to be installed, the penalties for exceeding the 14 days allotted will be $2,000 per day for commercial consumers to a maximum of $20,000 and $1,000 for residential consumers to a maximum of $10,000.
The standards also stated that the time allowed for GPL to respond to repair calls for commercial entities will be one day maximum, with a penalty one-off fine of $15,000 and one and a half days for residential consumers, with a one-off fine of $3,000. The report will be considered made at the time it was registered with a GPL customer service representative and when a reference number is provided.
Consumers who have queries in relation to their bills, service quality or their account and lodge complaints via telephone, correspondence or over the counter that do not involve investigations outside of the office, are expected to receive an acknowledgment within five days of submission and a response within 10 days thereafter.
The PUC mentioned additional standards which addressed issues such as meter tampering, among other things. The commission said that consumers who have found GPL in breach of the standards should contact its office at Church Street by telephone at 226-7042 and or through its website at www.puc.org.gy.
Further, the PUC observed that the majority of its complaints are from residents in the city. The commission said it is open to complaints from across the country and according to Persaud, PUC branches are to be set up at Berbice and Essequibo shortly. He said too that they are working on setting up a 24-hour hotline.
Around the Web