Truck driver Godfrey Gomes was last Friday sentenced to two years in jail after he was found guilty of the death of a 13-year-old St Rose's High School student, who he ran over on a pedestrian crossing in 2005.
Magistrate Sherdel Isaacs-Marcus handed down the sentence at the Vigilance Magistrates' Court, following the conclusion of Gomes' trial.
Gomes, who was released on station bail shortly after his first court appearance, was found guilty of driving his vehicle in a dangerous manner at Better Hope Public Road, East Coast Demerara, on December 5, 2005, resulting in the death of Trishana Debidayal.
The second form student was crossing the road when Gomes, the driver of motor lorry GJJ 3006, overtook another vehicle and failed to stop at the pedestrian crossing. He hit the teenager, killing her on the spot. One of the truck wheels ran over the child's head and she was dragged several feet before the vehicle came to a halt.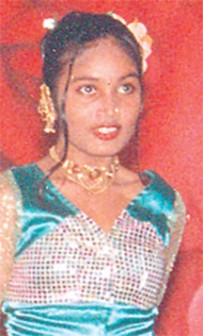 Gomes, a resident of Angoy's Avenue, New Amsterdam, was arrested by public-spirited citizens after he tried to flee the scene by jumping into a passing car.
Meanwhile, the child's mother Agnes said although she has received some justice, two years is not a strong enough penalty. "Two years for killing a child is not harsh. I feel that the penalty should be increased," the woman said. She said that she and her family will be lobbying for harsher penalties for those drivers who kill children on the roadways.
For Agnes, last week's verdict brought an end to five years of attending court hearings. Agnes said that looking at the man who killed her child was very hard for her and she is now comforted by the fact that the case has ended. She remembered the girl as a beautiful, intelligent and religious individual. She also expressed gratitude to everyone who supported her during her time of grief.
Around the Web