Dhaka, (Reuters) – New Zealand stunned South Africa  today by knocking the form team out of the World Cup in the  third quarter-final.
South Africa have now lost all five of their knockout  matches since they first played at the tournament in 1992 while  underdogs New Zealand advance to the semi-finals for the sixth  time.
Man-of-the-match Jacob Oram took two brilliant catches and  captured four for 39 with his naggingly accurate medium pace  after the South Africans appeared to be cruising to victory in  pursuit of a modest victory target of 222.
The South Africans had reached 108 for two shortly before  the halfway point with their premier batsman Jacques Kallis well  set on 47.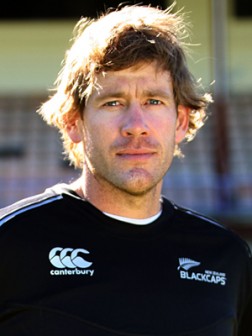 But Kallis was magnificently caught on the boundary by Oram  off Tim Southee, JP Duminy was bowled for three and AB de  Villiers run out two balls later for 35.
New Zealand, who had fielded tenaciously and bowled with  spirit, piled on the pressure with Oram snapping up two more  quick wickets.
Faf du Plessis, who was dropped by Oram on 29, hit the New  Zealander for six off the next ball before holing out to Southee  for 36. Morne Morkel (3) was the last man to fall as South  Africa collapsed for 172 off 43.2 overs.
Jesse Ryder anchored the New Zealand innings with 83, his  maiden World Cup half-century. But although the Kiwis became the  only team in the tournament to bat through their overs against  South Africa their eventual total of 221 for eight seemed well  short of a challenging total.
New Zealand will now meet the winners of Saturday's  quarter-final between Sri Lanka and England in Colombo next  Tuesday.
(BBC) JackRalston: "South Africa have choked again! Big loss, congratulations New Zealand."
Tweet us with the hashtag #bbcworldcup to get involved or continue the debate
43.2 overs WICKET Morkel c sub (JM How) b Woodcock 3 (SA 172 all out)
Woodcock back into the attack (as he had to be), Morkel swings and he's caught at long-off! New Zealand win by 49 runs.
43 overs Commentary SA 172-9 (TARGET 222)
With respect to Imran Tahir, the rabbit hutch is well and truly open now, and the field is up, although there are men out at third man, cow corner and cover sweeper. Tahir defends the last ball of the over.
42.5 overs WICKET Du Plessis c Southee b Oram 36 (SA 172-9)
Oram back into the attack, Du Plessis whacks one straight back at him and it's dropped by the bowler! A really hard chance as it came at him like a bullet and hit him on the forearm, that must have hurt. FDP launches one high into the night sky over long-on, Jamie How is out there and this is six or out – it's six! A single takes him to 36 – what can Morkel do? He tries to nurdle one off the pads and they scamper a leg bye. FDP tries another big hit – and is caught at cover!
From MilapOne: "Du Plessis & Morkel need to do a Yuvraj & Raina today."
Tweet us with the hashtag #bbcworldcup to get involved
42 overs Commentary SA 164-8
Well, well, well – they stick with Southee, Woodcock's not going to be able to complete his spell as he's only bowled five overs, and if this goes the distance, they'll have to use a sixth bowler – probably Scott "The Penguin" Styris. Du Plessis singles to long-on, Morkel ducks a bouncer as NZ try to bowl defensively to him – would have been an aerial wide to James Taylor or Tim Ambrose, but not to a big chap like Morkel, who eventually manages a single. FDP drives the fifth ball down the ground for a single. Morkel digs out the last. 58 needed from 48 – the crowd are loving this, I'm loving it and I hope you are too!
From Ed: "How good a knock was Jesse Ryder's now? Played against him once when he played for New Brighton in the Liverpool Comp. Turned up 10 before the start, hit 100 and something off not too many, and cleaned me up with the ball, not that that was any great surprise! Class player, and scary to field anywhere against!"
Not that he's done much fielding himself today…
41 overs Commentary SA 161-8
Vettori in for his last over, Du Plessis needs boundaries and gets one when he whacks the third ball past the non-striker for four. Vettori's creaky knee earns FDP a single off the next ball when he can't get down quickly enough to stop it. 61 needed from 54.
From Simon: "It's possibly a little pot/kettle for any Kiwi fans to talk about choking with a Rugby World Cup coming up!"
40 overs Commentary SA 156-8
Southee returns to the attack, Morkel has a huge swing-and-a-miss – finally rotating the strike on the third ball of the over with a slightly hesitant single. Du Plessis is going to have to play a huge innings here, whacking a full toss back past the bowler – it threatens to decapitate Umpire Tucker but he ducks out of the way as the ball disappears for four. A single to long-on takes FDP to 22, Morkel edges to third man and they decline a single so FDP will face the next over.
From David in GX: "Like an Oxford v Cambridge boat race – clear water appearing between the worms."
You can watch the Boat Race live on BBC One, BBC HD and worldwide (not just in the UK) on the BBC Sport website tomorrow, by the way
39 overs Commentary SA 150-8
South Africa have taken the batting powerplay, so there will be a maximum of three fielders outside the circle for overs 39-43 – which may not make much difference, as New Zealand had crowded Morkel with close fielders anyway. It looks like Woodcock was set to bowl, but Cap'n Dan Vettori takes the ball as soon as SA choose to take the powerplay. It looks like NZ are happy to offer Du Plessis, as the only recognised batsman, a single if he wants it – after two dot balls, he threads a two through to the cover sweeper. A single leaves Morkel two balls to face – he manages a single off the last ball.
38 overs Commentary SA 146-8
Morne Morkel is South Africa's number 10, he sees out the over but the required rate is over six – 76 more needed from 72 balls. And a batting powerplay to come. Nathan McCullum finishes with figures of 10-1-24-3.
Contributor BBC Test Match Special's Ian Bishop
"For me, South Africa are beaten mentally. There was no need for Steyn to play that shot, but the pressure got to him after three dot balls."
Contributor BBC Test Match Special's Shamim Chowdhury
"They can't escape the tag of 'chokers' as they've thrown away most of their wickets."
37.4 overs WICKET Steyn c Oram b N McCullum 8 (SA 146-8)
McCullum is going to bowl his last over, Steyn slices one to backward point and New Zealand are two wickets away from a famous victory!
From David Herbet, TMS inbox: "Re: Lee James's comment about choking, 33 overs – perhaps the South Africans should talk about it in the dressing room. It's clearly a phenomenon they need to address and not talking about will just leave it preying on their minds."
37 overs Commentary SA 146-7
Woodcock back into the attack – they had to bowl him at some point – and his first ball is a legside wide. Steyn adds a single, then Du Plessis tries to blast one through the covers, but it's brilliantly stopped by who else but ball-magnet Martin Guptill? The Force is certainly with you if the ball keeps going to your best fielder, rather than your worst – either that, or it's some very good captaincy. NZ allow Steyn a single off the last ball so he'll face the next over.
From inky_fluff: "I restarted my laptop (because it asked me nicely) and I missed two wickets!"
Tweet us with the hashtag #bbcworldcup to get involved
36 overs Commentary SA 142-7
Nathan McCullum into his ninth over, with his bare-headed brother crouching behind the stumps. Steyn is watchful in defence – as Shamim Chowdhury points out on TMS, if SA play out the last 15 overs sensibly, that could help them over the line – while the TMS commentators wonder if New Zealand have several Martin Guptills on the field today, as the opener has been everywhere, diving and cutting off runs like a Jonty Rhodes/Paul Collingwood/Trevor Penney hybrid. Steyn guides the last ball for a single to fine leg – 80 needed from 84 balls.
From Andrew from Grantham: "Looks like I'll have to use the Heimlich maneuvre again when I meet my SA mate after work!"
35 overs Commentary SA 141-7
Dale Steyn is the new batsman, and Oram strays with his line as Steyn helps himself to a four down the leg side. A single brings Du Plessis back on strike – the hopes of a nation rather wait on him now – and he crashes a four through the covers to get the SA worm moving again.
From just about everyone on the texts: "Not Oram… Botha is bowled! Looks like the pressure is getting to you!"
I wasn't going to mention it, but I am a little under the weather today, though I'm trying to struggle through the game as best I can – a bit like Mr Vettori!
34.2 overs WICKET Peterson c B McCullum b Oram 0 (SA 132-7)
Du Plessis lifts a three over mid-wicket, then Peterson edges to the keeper! Like slip-catching practice, but another Proteas batsman falls!
34 overs Commentary SA 129-6
Du Plessis works a single as McCullum begins his eighth over. There's a helmeted short leg in for Peterson, who is stout in defence for the rest of the over. The rate is nearly up to six an over… and it's time for the ball change.
33 overs Commentary SA 128-6
Robin Peterson is the new batsman, he's a capable hitter as we've seen in previous games but there's so much more pressure on now. He sees off the last ball of Oram's over and the target is now 94 from 102 balls.
Contributor BBC World Service's Lee James
"We've got to use the word – the South Africans say the 'chokers' tag is something that's talked about in the media, not the dressing-room, but once again they've not been able to perform as we'd expect."
32.5 overs WICKET Botha b Oram 2 (SA 128-6)
Oram back into the attack, a really tight over, just a single from FDP but then Oram is bowled between bat and pad! Unbelievable scenes!
From Andy Simpson, TMS inbox: "Here's hoping for the kind of finish that leaves the Worm Graph looking like the DNA double helix."
From Anonymous: "So five wickets left, five bowlers to defend them and score the runs. Daring to speak too soon but is Kiwi World Cup double with the upcoming rugby on the cards?"
I've learnt not to speak too soon in matches like this! We could still be here for a super-over in a couple of hours' time!
32 overs Commentary SA 127-5
Lee James makes an interesting point on TMS – there hasn't been a DRS review in this game yet, just a couple of umpire-prompted reviews for run-outs. Botha works a single off his legs, while Du Plessis – the last front-line batsman if you count Botha and Peterson as all-rounders, or less charitably as bowlers who can bat – adds another. And NZ were 128-2 at this stage – the worms have (nearly) converged!
31 overs Commentary SA 125-5
Now, as I thought, with only two overs of himself left, Vettori is going to see if he can smuggle through an over or two from Woodcock, who's only bowled three. He, too, has two close catchers – Du Plessis flicks his third single, Botha is off the mark with a single and it's another tidy over for the Kiwis. Has the worm turned?
30 overs Commentary SA 123-5
McCullum keeps it tight against Du Plessis – and with a slip and a silly point in, again SA can only manage one single from the over. 99 needed from 120 balls.
From dentoad: "Just called over my employee over to show him what a proper graph looks like. At least he has learnt something today."
Tweet us with the hashtag #bbcworldcup to get involved
29 overs Commentary SA 122-5
Replays of the last over show it all seemed to kick off when it went to the third umpire, when NZ 12th man Kyle Mills ran on with the drinks, and got involved with the SA batsmen! It all got a bit heated there. Match referee Roshan Mahanama may want to have a look at the video. Suddenly, all the pressure is on SA after Geoff Boycott's "add two wickets to the score" formula is applied. Two new batsmen in – Du Plessis and Johan Botha – and it's just one single from Vettori's over. Game Very Much On!
Contributor BBC Test Match Special's Neil Manthorp
"It's all my fault for tempting fate – I confirmed my flight to Colombo for the semi-final half-an-hour ago."
28 overs WICKET De Villiers run out (Guptill) 35 (SA 121-5)
New batsman Francois Du Plessis pushes a ludicrously risky single, and ABDV is run out by a foot! There's a bit of argy-bargy between the players as they wait for the third umpire's verdict.
And at the risk of alienating the entire South African audience… is this the start of, well, the choke?
27.4 overs WICKET Duminy b N McCullum 3 (SA 121-4)
Single from ABDV, then Duminy completely misses a cut shot and is bowled!
27 overs Commentary SA 120-3
Southee continues for his seventh over, De Villiers and Duminy rotate the strike well before ABDV unleashes another classy drive for four – this time it's straight, and Duminy has to leap out of the way to avoid it. A single takes him to 34 from 39 balls, a reasonable strike rate in the circumstances.
From bigtony47: "Finally an extra in the 23rd over. Trying to spice the scorecard up!"
Tweet us with the hashtag #bbcworldcup to get involved
26 overs Commentary SA 113-3
Neil Manthorp on TMS is full of praise for the lunch and dinner he's had at the Sher-e-Bangla Stadium today. (I sat next to Neil in the Rose Bowl media centre at Twenty20 finals day a couple of years ago, and we both tucked into the curry on offer to the press that day). Off-spinner Nathan McCullum is back on, while Vettori – limping round the field with his bad knee – is in at slip. ABDV and JPD rotate the strike with three singles – 109 more needed from 24 overs at a rate of 4.34.
25 overs Commentary SA 110-3 (TARGET 222)
There's a gremlin in the system here (or a rip in the fabric of the space-time continuum) as somehow the 23rd over is being shown as being bowled after the 24th – and it didn't. Honestly. JP Duminy is the new man in, he's immediately off the mark with a single. De Villiers guides a single off his legs.
24.1 overs WICKET Kallis c Oram b Southee 47 (SA 108-3)
And they've so, so got one! Kallis tries to lift Southee over mid-wicket and picks out giant Jacob Oram running round!
24 overs Commentary SA 108-2
Kallis doesn't quite connect with a sweep at Vettori but chases through for a leg bye as keeper McCullum throws to the bowler's end, ABDV pushes a two and a single, and Kallis carves the last ball for a single to move to 47. New Zealand so, so need a wicket.
23 overs Commentary SA 103-2
Southee replaces Oram, ABDV opens the face to steer him for four through cover – that's the hundred up for South Africa, and this stand is already worth 32. The TMS commentators are purring at ABDV's timing which is, as ever, immaculate. A single apiece means Kallis has 46, while ABDV has 22 – and 340 for this World Cup.
From Chris, TMS inbox: "Why does Ian Bishop think it's been a bowler's tournament? All the stats suggest this has been the highest scoring world cup so far. I think it's just seemed bowler friendly because we are seeing the majority of wickets being taken by unusual suspects (Afridi, Yuvraj, Petersen), and it's spinner friendly."
And the last couple of texts we're going to be printing on this subject (so I don't risk getting taken off air):
From B Obama,  Washington: "Dave C [20th over], you haven't got time to be implementing further cuts. You have my coffee to make and my shirts to iron."
From Elizabeth II, Buckingham Palace: "To Mr C and Mr O [20th over] shouldn't you be fixing the economy, I shall have you both removed and you will spend the rest of your days in the Tower of London, one is not amused."
22 overs Commentary SA 97-2
Kallis and ABDV push a couple of singles against Vettori, then Kallis goes for a big lofted drive over the bowler's head… but it's cut off and they can only run two. Cap'n Dan has now bowled six overs, and has figures of 0-25.
From Guesty84: "Re: deanamite90 [16th over]: 222-2 at 2:22 – poor old Shep would have had disco feet dealing with that. Great line for budding Richie Benaud impersonators."
Marvellous effort, there. Tweet us with the hashtag #bbcworldcup to get involved.
21 overs Commentary SA 93-2
Ooh, that's lovely from ABDV – a super cut shot brings him four against the lanky Oram. A single takes him to 16 – and Kallis wipes his brow with a whie cloth before nicking the strike with a single. At this stage, New Zealand were 80-2.
From Paul Jackson, TMS inbox: "Is anyone from a government department actually working today? You have quite a lot to sort out."
From Dave C and George O, Westminster: "Don't worry too much Messrs Jones and Morgan; personnel streamlining due to budget concerns will be requiring Paul [14th over] and Andrew [11th over] to clear their desks this afternoon. Any further cuts to be implemented by yours truly. And give Ben his phone back."
20 overs Commentary SA 87-2
Change of bowler, same action as Woodcock is replaced by fellow slow left-armer Vettori. But the Kiwi skipper can't help Kallis and De Villiers taking four singles and a well-run two off the over.
19 overs Commentary SA 81-2
Oram in for his fifth over, ABDV briefly behaves like Nic Pothas (one of his ODI predecessors behind the stumps for SA, now more familiar as a Hampshire player), meticulously clearing the dust and anything else away from the crease. But Oram completes a careful maiden over.
Contributor BBC Test Match Special's Ian Bishop
"It's been a bowler's tournament, but it's fantastic that the faster men have prospered as well as the spinners."
18 overs Commentary SA 81-2
After the drinks break, Woodcock skips in for this third over, ABDV clubs a full toss through the leg side for four, while the Proteas pair also pick up three singles. 141 needed from 32 overs for SA to progress to the semi-finals.
From Paul from the Treasury: "Don't worry Mr Jones [11th over], Andrew in a well known government department [14th over] will be seeing increased budget cuts."
From Simon, London: "Re: Neil Manthorp [10th over], given that Dhaka's population is around three times that of New Zealand's, it would seem highly likely that your observation is correct!"
17 overs DRINKS BREAK SA 74-2 (TARGET 222)
Kallis steers fellow grizzled veteran all-rounder Oram for a two through backward square leg. Oram's the leading Kiwi wicket-taker in World Cup matches, with 33 – one ahead of the notorious slow-medium dibbly-dobbly bowler Chris Harris – but he sends down a tight over, and that SA worm is starting to move a little closer to the NZ worm…
From deanamite90: "If SA get 222-2 by 2:22GMT I will stand up and applaud."
Tweet us with the hashtag #bbcworldcup to get involved
16 overs Commentary SA 72-2
Oram takes an orangey drink between overs as Kallis takes his score to 35 with a single off Woodcock's new over, and De Villiers is off the mark with a single. More heroics in the field from Martin Guptill, who's already saved a few runs today, although a diving stop can't prevent Kallis from taking a single.
15 overs Commentary SA 69-2
The right-handed AB de Villiers is the new batsman – his ODI batting average is 45.79, with his World Cup average even higher at 53.07. Oram keeps it tight for the rest of the over, and the Kiwis can take heart.
From Craig Alexander, TMS inbox: "NZ coach John Wright has a lot to answer for here. His 'don't lose wickets in the first 35 overs' mantra is the cricket equivalent of playing for a 0-0 draw, hoping to nick one on the break. NZ are going home without ever really having had a go at this semi-final. As a player I'd be gutted."
From Mr Morgan, Shrewsbury: "I would just like to add that Mr Jones [11th over] has been docked a day's pay, had his phone confiscated, and will be in charge of today's after school detention. This, I hope, will coincide with the conclusion of this match.
14.2 overs WICKET Smith c sub (JM How) b Oram 28 (SA 69-2)
Oram has changed ends, Kallis adds a single but Smith slices a catch to the diving sub fielder Jamie How at backward point, and looks to the heavens in frustration.
14 overs Commentary SA 68-1
Luke Woodcock into the attack – or at least that's what NZ are claiming. Suspicion here in the office is that it's Jeremy Snape (for whom Woodcock is a bit of a ringer), bowling left-arm spin rather than his characteristic "moon balls". His first ball in international cricket is slapped through extra cover for four by Smith – he and Kallis keep plugging away with the ones and twos, although Woodcock – I can't really call him a youngster, he was 29 last week – does get one to spin past  the outside edge.
From Andrew, in a well known government department: "Don't worry Ben [7th over]. Mr Jones [11th over] might get an Ofsted inspection for not concentrating in class."
From Andrew Boardman, TMS inbox: "The worm looks good and is really useful in showing the difference between the teams. Watching this while at work, lucky the boss is busy, or maybe I might get worse than detention."
13 overs Commentary SA 60-1
The required rate before this over was 4.83 – and with South Africa seemingly effortlessly picking off four singles an over, they ain't looking too bad at this stage. Just a couple though from this over, that's a tighter line from Southee. And Shamim Chowdhury on TMS reveals that there will be a 10-minute firework display at the end of the game, to mark the final World Cup game in Bangladesh.
From comedian Andy Zaltzman in Mirpur: "NZ coaching staff seen in dressing room coating a kidnapped Richard Hadlee in a special youth-restoring serum. Last throw of the dice."
12 overs Commentary SA 58-1 (TARGET 222)
Oram in for his second over, more steady accumulation from the Proteas and four singles from the over. The TMS commentators think NZ need to turn to third spinner Luke Woodcock soon, if he's to have a chance to get into the game properly.
And another email in, this time from Cricket Ireland – they're going to play two ODIs against Pakistan at Stormont, Belfast on 27 and 29 May.
Contributor BBC Test Match Special's Danny Morrison
"It's easy to say with hindsight that New Zealand batted too cautiously, but they'd lost both openers by the time the score got to 16. Brendon McCullum really needed to play a big innings today, and he blew it."
11 overs Commentary SA 54-1
New Zealand take the fielding powerplay, but Southee looks to be easy pickings for the Proteas pair, who had played 484 ODIs between them before today. Four singles from the over.
From Mr Jones, Shrewsbury: "Just to inform you all that Ben [7th over] now has a detention after school and will have his phone confiscated. This, I hope, will coincide with the conclusion of this match."
10 overs Commentary SA 50-1
Jacob Oram into the attack with his medium-fast seam, with his injury history you worry that he's liable to fall apart at any minute… Smith and Kallis exchange singles before the Proteas skipper smashes a four through point.
Contributor BBC Test Match Special's Neil Manthorp
"I can't believe the traffic here. There must be more traffic in Dhaka than in the whole of New Zealand."
From Melusina_London: "Seeing that England have played well against the 'good teams', I hope they smash their way to the semis in style!"
Tweet us with the hashtag #bbcworldcup to get involved
9 overs Commentary SA 44-1 (TARGET 222)
Kallis and Smith keep pushing the singles against Southee, Kallis mistimes a hook but it falls safely in front of Styris at long leg, and he shows his experience by waiting to turn a four off his toes. Kallis has 24 from 28 balls, Smith has 13 from 20.
The Bangladesh fans, by the way, are just loving this, seemingly cheering for both sides, and applauding fours and wickets alike. The 'Desh themselves may have been knocked out of the tournament, but their supporters deserve credit for the passion they've shown at the tournament coming to their homeland.
From Simon: "Promoting Bell to number two could be a good idea, he has looked a bit out of touch and it worked with KP earlier in the tournament. Anderson back a good idea too, we need someone down the order to bat through the powerplay."
8 overs Commentary SA 36-1
Vettori wheels away for his fourth over, the experienced Kallis and Smith drive their way to a single and a two respectively.
7 overs Commentary SA 33-1
After six overs of spin, New Zealand turn to young right-arm seamer Tim Southee, Smith aims an expansive drive but Guptill is like a panther in the covers. A careful pull to short fine leg brings a single, and a loose delivery is smacked through mid-wicket for four by Kallis, who keeps the strike with a single to long leg.
And if you're a fan of the "worm" run graph, try clicking the lines – you can make the NZ line disappear if you want to.
From Ben in sunny Shrewsbury: "Sitting at the back of every classroom today checking the score. It's been more interesting than the lessons!"
6 overs Commentary SA 27-1
Smith and Kallis keep the scoreboard ticking with singles off Vettori, Bryan Waddle on TMS says they're doing much better than New Zealand already. Kallis cuts loose when he lofts a four over mid-off, then there's another big shout for lbw – Umpire Tucker shakes his head, and Cap'n Dan eventually decides against invoking the DRS.
5 overs Commentary SA 20-1
Nathan McCullum quickly through his over, two singles taken and there's a huge shout for a catch behind by his wicketkeeping brother Brendan – but it came off the pad and is rightly given as not out.
Contributor BBC Sport's Oliver Brett
"This match situation suits Jacques Kallis like something made from finest Jermyn Street cloth."
Contributor BBC Test Match Special's Simon Doull
"The spinners are getting picked off too easily here."
From Chris in London (and others): "How good was that prediction for the NZ total from Jordan Sinclair, made just after the first over!"
4 overs Commentary SA 18-1
Kallis works Vettori for a two through mid-wicket, and a single off his legs.
And an email arrives from the ICC… they've welcomed a front-page apology from the Times of India newspaper after "its fictional and damaging report which stated that the Australia v Zimbabwe game had been fixed".
From John Etheridge (Sun cricket correspondent): "Bell to open, Anderson recalled."
Attention turned to the England v Sri Lanka match tomorrow. Your thoughts?
3 overs Commentary SA 15-1
Kallis, facing the bowling for the first time, guides a single to leg, while Smith scampers a two through mid-wicket as Martin Guptill makes an excellent stop in front of the rope. The left-handed Smith clips a single through square leg, as does the right-handed Kallis. NZ have sub fielder Jamie How on the field. "No sign of Jesse Ryder out there," notes Simon Doull on TMS. "He's doing a Virender Sehwag."
2 overs Commentary SA 10-1 (TARGET 222)
Jacques Kallis in at number three – and it's two spinners sharing the new ball as Cap'n Dan Vettori, hair cut very short at the sides like an army recruit, comes on to bowl his orthodox left-arm spin. Smith pushes a quick two off his legs, Oram's throw from long leg hits the stumps but umpire Aleem Dar rules that Smith has made his ground safely.
1 over WICKET Amla c Vettori b N McCullum 7 (SA 8-1)
Having admitted he would be "hiding himself" in the field, captain Daniel Vettori is at slip as off-spinner Nathan McCullum takes the new ball for New Zealand – like SA, they're opening with a spinner. Amla steers a two through the covers before lacing a four through the same region. Amla guides a single off his legs, while Smith guides one off his legs for one. Then Amla gets an edge, Vettori claims the catch, but where did that come off? His boot? The wicketkeeper's boot? The ground? The umps turn to their TV colleague – replays show it came off the keeper's boot! Shades of the famous Wayne Phillips/Allan Lamb/David Gower catch in '85 – and Amla's gone!
From Daniel Bulger, TMS inbox: "I think it was clever batting from the Kiwis, setting double Nelson for the world's unluckiest team to chase."
We're nearly ready to go – Hashim Amla and Graeme Smith opening up for SA. Let the chase begin.
From Darren in Bristol: "Surprised Southee wasn't promoted up the order a bit. I seem to remember him clobbering England's bowlers around the ground a couple of years back."
Indeed, I was there, watching from the main stand at McLean Park in Napier as Southee smashed 77 not out from 40 balls to delay England's Test series win…
From Brent, at work in London: "As a Kiwi I'm hoping for some magic from Dan the man. But I fear we are 20-30 runs short after Steyn strangled us."
Right, we'll resume proceedings when SA begin their reply at 1245 GMT. Keep an ear on TMS for the Michael Vaughan/Muttiah Muralitharan chat, grab a sandwich and I'll be back soon…
50 overs Commentary NZ 221-8
Woodcock smears Steyn for a single, Williamson plays and misses at a bouncer before hoisting a two to wide long-on. He steps back and back-cuts the antepenultimate legal ball for four, then steps back and makes no contact with a full delivery that sails just past off stump, falling over as he does so. He tries to flick the last ball of the innings down the leg side, they run one and it's called a wide so they'll have another. Woodcock carves the last ball to mid-wicket for one. So it's the only time at this World Cup that South Africa haven't bowled their opponents out – they'll have to chase 222 to reach the semi-finals.
49 overs Commentary NZ 211-8
Luke Woodcock in for his first World Cup innings – indeed, this is only his third ODI and he's only batted once before, scoring 11. He looks like he goes to the same hairdressers as Jonathan Trott – and scoops a single off the last ball. Morkel finishes with 3-46 from eight overs. So NZ take 37 from the batting powerplay, for the loss of three wickets.
48.5 overs WICKET Vettori b Morkel 6 (NZ 210-8)
Captain Daniel Vettori is New Zealand's new batsman, they pretty much bat all the way down. He steps across the stumps and guides his first ball for four off his legs, then steps back but can't force it past cover. The skip likes a bit of a wander around his crease at this stage of the innings, and now steps back to punch a two down the ground. But Morkel unleashes another yorker to end Vettori's little cameo.
Rather surprisingly, the umpire checks for a no-ball with his TV colleague before sending Vettori on his way – but Morkel's foot was easily behind the line.
48.1 overs WICKET Oram b Morkel 7 (NZ 204-7)
Oram tries to swing a yorker to leg, and is bowled middle stump by Morkel!
Contributor BBC Test Match Special's Bryan Waddle
48 overs Commentary NZ 204-6
Williamson guides Steyn off his legs for a two and a single, a push into the covers by Oram brings up New Zealand's 200. Williamson scampers a two to long-on, while another single and a leg bye mean it's eight from the over. 12 deliveries left.
From Siyal8r: "Not worried about this game, we should win… it's the semis and possibly final where food usually gets lodged in our throat."
Tweet us with the hashtag #bbcworldcup to get involved
47 overs Commentary NZ 196-6
Tahir back into the attack, Williamson doesn't look like he can read the leggie too well and takes three balls to get off strike and give Oram the bowling for the first time. The giant left-hander prods his first ball straight to a fielder, but sweeps his second for four, before bashing the last ball back past the bowler. Botha dives full-length on the long-off boundary to restrict them to two runs.
From Adrian in Leigh on Sea: "Lest we forget, England only managed 170 against South Africa but still emerged triumphant. A certain Stuart Broad was brilliant that day, he will be sorely missed by England for the rest of this tournament."
Contributor BBC Test Match Special's Adam Mountford
On Twitter: "The TMS interval at 1200 includes part one of Michael Vaughan's exclusive chat with Murali."
46 overs Commentary NZ 189-6
Not before time, the tall Jacob Oram strides to the crease – he's the non-striker as they ran on the catch. Steyn sends down another slower ball which Williamson hits straight to a fielder. He tips-and-runs a single to extra cover off the last ball, but that's only two from the over.
From Beast: "Facing Tahir, Murali and Trueman? Pah. I was spanked for 32 off an over by Eoin Morgan in a Dublin schools game."
Tweet us with the hashtag #bbcworldcup to get involved in this one-upmanship!
45.3 overs WICKET N McCullum c Duminy b Steyn 6 (NZ 188-6)
Single from Williamson, then McCullum swats cross-batted and that's a straightforward catch for Duminy at cover. He used up 18 balls to score six.
From James Lord (and many others), TMS inbox: "Re: Steve 44 overs – Lake Windermere is a misnomer. It is not, nor has it ever been, called Lake Windermere. It is simply Windermere (a mere being a lake that is shallow in comparison to its breadth). Cricket and education – what more could you want?"
From Dave in Yeovil: "Just noticed you have lost your red dots again (in the 'worm' graph). Are they likely to put in an appearance in the SA innings?"
I'm told they've gone for now… but I hope you're enjoying the worm, many of you have been emailing and texting in to say so.
45 overs Commentary NZ 187-5
New Zealand take the batting powerplay, and fInally we have a boundary as Kane Williamson canes Peterson for a big six over long-on, before knocking a single. McCullum is walking around in his crease, he swipes and misses and it sails through ABDV behind the timbers for four byes. McCullum chips a single to long-on, Williamson twirls his bat before drilling a single to long-off, that's 13 from the over.
Contributor BBC Test Match Special's Neil Manthorp
"The first couple of World Cups were 60-over games – New Zealand could do with the extra 10 overs here. But I've learnt in my commentary career not to judge a game until you've seen both sides bat."
Contributor BBC Test Match Special's Ian Bishop
"The next six overs are going to be very important. Teams are still trying to work out their strategies for batting powerplays."
44 overs Commentary NZ 174-5
Williamson and McCullum milk three singles from Steyn's over, but that's it – if I were a Black Caps fan, I'd be wondering why they're plodding around in singles when a tried and tested big hitter like Jacob Oram is sitting in the pavilion with his pads on?
From Steve in Leeds: "Facing Tahir [20th over] and Murali [36th over] that's nowt… when I was a spry young thing I faced Fred Trueman in the Headingley nets and the ball was found in Lake Windermere!"
I believe you… did I ever tell you about the time I hit Malcolm Marshall into the Solent? All the more remarkable as it was from Basingstoke?
43 overs Commentary NZ 171-5
Smith continues to rotate his bowlers in short spells as Peterson returns for his fourth spell, to bowl his eighth over. McCullum tucks a single off his legs, smart fielding prevents a second, and he's taken four balls to rotate the strike – NZ will be lucky to reach 200 at this speed. Williamson cuts the last ball for a single to the cover sweeper, but that's only two from the over.
From Nick at work missing the cricket: "Can any stat man work out if inside edge is most common form of dismissal? It seems to be a lot more evident at this World Cup!"
42 overs Commentary NZ 169-5
Steyn replaces Morkel – now, having only bowled five overs before this one, will he bowl his last five straight through? McCullum tries to open the face and guide the ball to third man, but alert wicketkeeping by De Villiers at full stretch prevents a single. And a stabbed single to point is all McCullum can manage from the over – NZ have nearly ground to a halt here.
From Graham Wright, TMS inbox: "Re: Anonymous 38 overs – You may  not have noticed that Australia lost yesterday and New Zealand are struggling today."
Contributor BBC Sport's Oliver Brett
On Twitter: "Have been seriously impressed with Graeme Smith's bowling changes and field settings today – best skipper in this tournament?"
41 overs Commentary NZ 168-5
Tahir tosses it up to Williamson, a full toss in fact which he hits just wide of the bowler for a single. That brings McCullum on strike for the first time, he pushes a single to the cover sweeper. Two more singles are added, but South Africa will settle for conceding four an over at this stage. Lest we forget, New Zealand still have a batting powerplay up their sleeves.
40 overs Commentary NZ 164-5
"Far too many dot balls for New Zealand at the moment" as Williamson struggles to get Morkel off the square, though he eventually threads a two through the covers. Williamson gets an edge… and it bounces before reaching Cap'n Smith at slip. Having a slip in probably saved four runs there… Williamson guides the fifth ball for two wide of mid-on, and a wristy flick through mid-wicket brings him three off the last ball and ensures he keeps the strike.
39 overs Commentary NZ 157-5
Williamson paddle-sweeps the last ball for a single. Nathan McCullum is the new batsman, but Bryan Waddle isn't happy with the batting order NZ have employed – he felt Ryder needed someone to come in and bat aggressively, like Styris did, rather than WIlliamson.
From Anonymous: "Has anyone else noticed that most of the teams, typified by Australia yesterday and New Zealand today, have gone with the approach of building an innings and having wickets in hand for the final overs in this World Cup? Wasn't this approach widely derided and considered outdated when England used it in the last one? So question has to be asked, were England ahead of the times?"
38.5 overs WICKET Ryder c sub (C Ingram) b Tahir 83 (NZ 156-5)
Tahir has a slip and a silly point in for Williamson, beginning the over with a wide before sending down two dot balls. Williamson knocks a single, then the pressure gets to Ryder as he goes for the big one and holes out at mid-wicket.
From Claire in Wales: "In reply to Dom [33rd over], the Glamorgan opener Mark Cosgrove is carrying a bit of puppy fat, he hates running so not likely to lose it in near future either."
38 overs Commentary NZ 154-4
Kane Williamson is the new batsman, I've not seen a lot of him, and there are five men in the circle as he turns Steyn for a single to long leg. Ryder, on whom a lot now depends for the Kiwis, can't get the last two balls away – so only one run from the over from Morkel, who wasn't quite at his best early on.
37.2 overs WICKET Styris b Morkel 16 (NZ 153-4)
Styris, clearly given licence to blast while Ryder bats through the innings, tries another big heave to leg and has his stumps demolished by an inside edge.
37 overs Commentary NZ 153-3
Bryan Waddle on TMS says it's got to be "run a ball" from now on for his NZ compatriots. Ryder knocks a single, Styris blasts a first-bounce four through long-on, before flicking a single to Kallis on the mid-wicket boundary. That's Mr Waddle's six from the over, anyway.
From JWBanner: "I have no idea why they decided to bat first , madness surely the stats back me up, wouldn't you rather be chasing?!"
Both captains said at the toss they'd have preferred to bat first. Tweet us with the hashtag #bbcworldcup to get involved
36 overs Commentary NZ 147-3
Graeme Smith is certainly rotating his bowlers today – no-one except Botha in his first spell has been allowed to bowl more than three overs at a time. Styris drives the recalled Morne Morkel back past the non-striker for four, before pulling him for four more through mid-wicket.
From Janitha Sumanadasa: "Forget Imran Tahir in the nets [see 20th over], I faced Murali in the nets back home in Kandy and consistently hit the elephant fields, let alone cow fields!"
35 overs Commentary NZ 139-3
Johan Botha is handed the "new" (cleaned and whitened) ball, Ryder and Styris work the singles but it's only fourth from the over. Botha has 0-23 from eight.
From Lucy in Elgin: "Currently reading the TMS commentary whilst in french class… An hour well spent me thinks!"
34 overs Commentary NZ 135-3
Scott Styris is the new batsman, Ryder works Peterson through mid-wicket for two before pushing a single to long-off to bring veteran campaigner Styris on strike for the first time. He's off the mark with a single to long-off, Ryder pushes another one back past the bowler. Time for the compulsory ball change.
From Chris in Leeds: "Shades of Brearley and Boycott in the 1979 final, far too slow."
From Dom in Harrogate: "With Big Jesse being of the carrying some timber variety, who would we say is the most portly player to have played in recent time? Surely Mike Gatting must be in with a shout?"
I don't think even the legendary Gatt could outdo Bermuda's jovial left-arm spinner from the last World Cup, Dwayne Leverock – who was conservatively estimated at 20 stone.
33 overs WICKET Taylor c Kallis b Tahir 43 (NZ 130-3)
Taylor and Ryder exchange singles, then Taylor tries to take Tahir on, but he's hitting to the long boundary… and it's pouched by the bucket-like hands of Kallis on the mid-wicket boundary!
32 overs Commentary NZ 128-2
An astonishing stat from my colleague Jon Barbuti – this is the slowest Taylor's ever scored when he's scored more than 30 in an ODI. After Ryder knocks a single to move on to 35, Taylor looks to take on Peterson (and Mr Barbuti's stats) by getting down on one knee and swinging for the mid-wicket fence, that's a huge six! A single takes him to 42, then the increasingly sweaty Ryder punches a two wide of long-off where the diving Morkel cuts it off on the rope.
From Ifte in Slough: "I cancelled my Sky subscription last month thinking that Pakistan will drop out early so my final day's coverage will be 1 April, which means I'll miss the final! Oh well thank goodness for the BBC text coverage!"
31 overs Commentary NZ 118-2
Tahir keeps it tight against Taylor, three dots and a single, then Kiwi hearts are in mouths when Ryder slices a googly just over backward point's head for a single.
Contributor BBC Test Match Special's Pommie Mbangwa
"I still don't know whether New Zealand are making batting look difficult, or whether it is actually difficult out there."
From James Franklin, Weston: "With a gazillion things to do before the end of the day, another World Cup commentary bonanza probably isn't the best thing to get me finished on time. Shame to see my namesake isn't playing today."
Presumably living in Weston (if it's the Weston of the super-Mare variety), you had the chance to watch him play for Gloucestershire last season?
30 overs Commentary NZ 116-2
That's a big hit from Big Jesse, lofting the recalled Peterson over long-off and it bounces a fraction in front of the rope, so it's only four when six looked likely. Having opened the over with a boundary Ryder and Taylor rotate the stroke well – a careful nudge here, a well-judged chip over the infield there – four more singles are added, that's the century stand – NZ's second at this World Cup.
From Craig Bamford, TMS inbox: "Since November I've had the Ashes, the subsequent T20 and one day series and now the longest World Cup known to man to take my cricketing season into April. What on earth am I going to do for the following week or two before the County Championship commences?"
Contributor BBC Test Match Special's Neil Manthorp
"New Zealand have loaded the bases here and left themselves a lot to do."
29 overs Commentary NZ 108-2
What the deuce? The floodlights flash on and off between overs, with a few blue lightbulbs in there – is this an ODI or a disco? Tahir back into the attack – if he gets these two Kiwi batsmen out, many SA fans may leave their hearts in Imran's disco. Ross and Jesse (does that sound like a country and western duo or what?) manage two singles and a two from the over.
Contributor BBC Sport's Oliver Brett
On Twitter: "NZ sticking to the NZ game plan – on no account lose more than three wickets in the first 35 overs or John Wright will shout at you."
28 overs Commentary NZ 104-2
That's more like it from Ryder, crashing Steyn through the covers for four, that's the hundred up for the Kiwis – and Big Jesse passes 1,000 ODI runs. (By comparison, Sachin Tendulkar passed 18,000 ODI runs yesterday). A two takes him to 64.
From steveh11: "New Zealand are scoring very slowly… will it be fast enough, though?"
As Simon Doull on TMS mentioned in the 15th over, it's all to do with coach John Wright's plan not to lose wickets… Tweet us with the hashtag #bbcworldcup to get involved
27 overs Commentary NZ 98-2
Single from Taylor, then Duminy floats a legside wide behind Ryder's not inconsiderable posterior, the big man then guides a single off his legs to move on to 57. Taylor and Ryder are finding the singles easy to come by, but we've not had a four for eight overs – and indeed, only had two in the last 15.
From James in Bristol: "Re: Mark [22nd over] I've invested in a day at the spa for my wife. She thinks I have been oh so generous, little does she know it was merely a ruse to get some peace and quiet for the cricket."
26 overs Commentary NZ 93-2
More talk of rain on TMS – but Shamim Chowdhury reassures listeners that if it does come, it should only be light drizzle – while the Sher-e-Bangla Stadium also has very good drainage, apparently. Steyn back into the attack in place of Kallis, a single takes Taylor to 27, but Ryder can't get the rest of the over away.
25 overs Commentary NZ 92-2
JP Duminy into the attack as SA's fourth spinner, with his part-time off-spin. He's bowling round the wicket, even to the right-handed Taylor. The NZ pair steer a single apiece, then when Duminy gives it a bit of air, Ryder lifts him into the sky between long-off and deep extra cover – they run two.
From Ollie and Bill: "This tournament has been blown wide open by india's win against Australia. We are watching in anticipation to see who England (hopefully!) will be pitched against in the semi's! New Zealand or south Africa… what do you guys think?"
I think it's a very big assumption to write off Sri Lanka's chances against England in tomorrow's fourth quarter-final – to use the old cliche, I'd recommend they take one game at a time…
24 overs Commentary NZ 88-2
Ryder pulls out of a pull shot as Kallis sends down a shorter delivery, just a leg bye off the last ball so that's a maiden over for Kallis. "New Zealand need to up the ante somewhat," says Pommie Mbangwa on TMS.
From Ali, London: "It will be interesting to see how NZ bowl seeing that the great Allan Donald is their bowling coach. Boy must he be in a pickle today!"
23 overs Commentary NZ 87-2
As Lee James on TMS is recommended a Dhaka jazz club (Great. Really great!) by Danny Morrison, Botha rattles through his seventh over, three singles from it. Real "middle-overs" stuff at the moment.
22 overs Commentary RYDER FIFTY – NZ 84-2
Bangladesh may be out of this World Cup, but the Mirpur fans are trying to make this – their last game in this tournament – a game with a carnival atmosphere. A single takes Taylor to 23, then Ryder guides a single to bring up his fifth ODI fifty. I still remember his first, which came against England in Hamilton in February 2008. A quick look at the England XI that day reveals a few "forgotten" ODI names – Ali Cook, Phil Mustard, Owais Shah, Ryan Sidebottom. Two more singles, that's four from Kallis's over.
From Mark: "Started negotiations with my girlfriend about the England game tomorrow. Thought I'd go straight into full begging mode and go from there. Any suggestions?"
If you're not able to watch it live, you can always watch the BBC highlights in the evening…
21 overs Commentary NZ 80-2
Single from Taylor, Ryder taps it to long-off and jogs through for a single, and Ryder works another off his legs. Botha has a very creditable 0-16 from six overs.
And thanks for your suggestions for bearded bowlers (everyone from Afridi, Mushtaq, Nannes to Mike Hendrick and WG Grace) – no more, please!
20 overs Commentary NZ 77-2
Lee James replaces Bryan Waddle on TMS – someone with local knowledge has told him that a particular flag at the Sher-e-Bangla Stadium, is a portent of rain if it's hanging limp. Which it is. But we're still in action as medium-fast seamer Jacques Kallis is into the attack as South Africa's sixth bowler – mind you, Du Plessis and Duminy have also bowled in this tournament so might we see five spinners (five more than they fielded in some games at the last World Cup?). Good over from Kallis, just two singles from it.
From Dobby the house elf: "Imran Tahir was my club pro for three years in the valleys of Norton-in-Hales. Great player and gentleman but never got me out in the nets! Smashed him into every cow field around!"
19 overs Commentary NZ 75-2
Lovely shot from Ross Taylor as Botha takes up the attack after drinks, a well-timed cover-driven four. Two more singles complete the over, and New Zealand will hope for a better performance today than in their recent tour of Bangladesh, when five ODIs were scheduled here – Bangladesh won four, and one was rained off.
From Tom Worsley, TMS inbox: "Re: beards – I'm struggling to name any bowlers who sported a worthy beard. Does a beard cause drag during their run in? Tashes on the other hand have proved no barrier to a successful bowler but are they sacrilege to the Beard Liberation Front?"
That's really weird, I selected the "Drinks Break" option and it came up as "Close of Play". But it's just a drinks break, honest!
From gotmethere: "Will the scoring worm be a Tiger Worm when Sri Lanka play, or specifically will it be a Worm That Turns when the Murali bowls?"
Aren't Bangladesh the Tigers? Tweet us with the hashtag #bbcworldcup to get involved, whether it's worm-related or not
18 overs DRINKS BREAK NZ 69-2
Ryder steers Morkel for two, before repeating his "pull with one foot in the air" shot for a single to square leg. Taylor rotates the strike, then that's loose down the leg side from Morkel and Ryder sends it on its way for four. That's the fifty stand, Big Jesse has 46 and is rewarded with a drinks break.
Meanwhile, BBC R4 LW listeners are rewarded with the Act of Worship – remember, you can listen to uninterrupted TMS commentary on BBC 5 live sports extra and via the website.
From Adam, Stockport: "Re: beards – are we counting Vettori's tache? Saw it last night. It puts KP's poor effort in the Ashes to shame!"
17 overs Commentary NZ 61-2
Tahir continues, single from Ryder, then Taylor pushes into the covers and a wild (and rather unnecessary) throw at the stumps allows them an overthrow. Ryder adds another – he has 39 from 28, Taylor has 13 from 26.
Contributor BBC Test Match Special's Bryan Waddle
"Maybe we could encourage a leg-spinner to come and live in New Zealand, like Tahir has for South Africa? He's really added balance and variety to their attack."
16 overs Commentary NZ 58-2
Morne Morkel returns to the attack, and he bowls a better line this time, it looks like a maiden over until Ryder clips the last ball for a single to fine leg. And apologies for referring to Tahir as Pakistan's third spinner rather than SA's a couple of overs back… forgive me, it's been a long World Cup!
From Colin, Southampton: "Another morning of 10% work, 90% cricket. Best way to spend a working day."
15 overs Commentary NZ 57-2
Taylor tickles Tahir for a two to fine leg, while Simon Doull on TMS reveals that NZ coach John Wright's game plan involves them being no more than three wickets down by the time the ball is changed at the 34-over mark. Taylor moves to 12 with a single, Ryder pushes one into the covers. Steady progress from the Kiwis.
From the Beard Liberation Front's organiser Keith Flett, TMS inbox: "South Africa's Hashim Amla and India's Yuvraj Singh have a clear lead in the World Cup Beard Index. The Index takes into account the visual impact of the beard, the style of its deployment in and the playing performances of hirsute players. Matt Prior is the top England player in fifth."
14 overs Commentary NZ 53-2
Taylor guides Peterson for a single past mid-on, Ryder moves on to 35. Taylor is quick between the wickets, rotating the strike with a single off the last ball.
There's a bit of turn for the spinners, but if you're more of a fan of worms that turn, please manually refresh this page – the run-scoring "worm" we trialled yesterday is back.
Contributor BBC Sport's Oliver Brett
On Twitter: "The more runs Ryder gets, the more ammunition for Samit Patel to query why an international cricketer must watch his waistline."
13 overs Commentary NZ 50-2
Leg-spinner Imran Tahir, South Africa's third front-line spinner, into the attack, even through Botha has economical figures of 0-7 from four overs. Taylor is happy to play the supporting role, carving a single to bring Ryder on strike. The big left-hander is briefly flummoxed by Tahir's googly, but drives down the ground for a single. Taylor guides a single off his legs to bring up New Zealand's fifty – hopefully with all these spinners on today, the over-rates should be quicker than they normally are when England or Australia are playing.
From mnabartlett: "Aussies seem very quiet today."
Funny, that… Tweet us with the hashtag #bbcworldcup to get involved
12 overs Commentary NZ 47-2
With Morkel having gone for 14 off his first two overs, he's off and Peterson returns. Taylor tries to help one down the leg side, and they run two leg byes. A single brings Big Jesse on strike, and he waits before timing his stroke perfectly to guide his fourth four through the covers. He repeats the stroke, less well timed on this occasion, but it brings him four more.
From Chris, Middlesbrough: "I've never seen a less threatening bowler than Johan Botha. He strutts around like he's Warne or Murali too."
He has 69 wickets from 73 ODIs, and 27 from 26 T20 internationals, and he's highly rated enough for Rajasthan to sign him for the IPL…
11 overs Commentary NZ 36-2
Umpire Aleem Dar twirls his arms to signal that South Africa have taken the bowling powerplay. It's still Botha from the media centre end, Ryder taps a single to take his score to 25 from 35 balls. Taylor guides one off his legs, he has four from 11 balls.
From Emlyn, Yeovil, Somerset: "A Zimbabwean sitting at his desk wanting the Kiwis to win… Ryder & Taylor to boof it to all parts."
10 overs Commentary NZ 34-2
Ryder smashes Morkel through point, that's through the legs of Kallis who's still in that catching position at short point. Not where I'd like to field when Big Jesse's coming out swinging. He pulls the last ball, one foot off the ground, but Hashim Amla covers acres of ground from long leg to the mid-wicket boundary to turn four into three.
From Patrick Ashworth, TMS inbox: "Re Jacques Kallis and the SA anthem [see 0829]: His mother died when he was young; his father, who raised him and his sister, died in 2003 of lung cancer. Kallis always mentions his dad as his biggest influence. He used to get a lot of criticism from certain quarters in SA for not singing the anthem, and was labelled 'unpatriotic'."
9 overs Commentary NZ 27-2
Taylor and Ryder help themselves to a couple of singles against Botha, who also flings down a legside wide.
8 overs Commentary NZ 24-2
Just as with Peterson, Steyn is taken off the over after taking a wicket, as South Africa replace him with fellow right-arm paceman Morne Morkel. Taylor pushes a single into the covers, Ryder punches a four through the covers before adding two more off the last ball of the over. That's better for the Kiwis.
Contributor BBC Test Match Special's Michael Vaughan
On Twitter: "Curry count 13… Took the England skipper for one last night. Good to see him at the ground ready for practice. Walking nicely. I reckon Bell will open, think Prior will bat at 4. Anderson to come in for Hightower [Tremlett]. Whoever plays will lose about 2 stone in fluids… it's scorching."
7 overs Commentary NZ 17-2
Luteru Ross Poutoa Lote Taylor – Ross to his friends – is the new batsman, getting forward well to defend against Botha as the Kiwis look to rebuild. (If you're in the UK, you can still watch Taylor's incredible 26 off one Shoaib Akhtar over on the BBC website). He's off the mark with a single, there's a stifled lbw appeal against Ryder, but there's a bit of turn out there.
Contributor BBC Test Match Special's Neil Manthorp
"Dale Steyn is a bowler that has that X-factor – and he can bowl one of the best slower balls in the world, as he does there."
6 overs WICKET Guptill c Botha b Steyn 1 (NZ 16-2)
Ryder edges Steyn past the solitary slip for a single. South Africa are full of beans in the field today as Guptill chops one into the covers and Francois du Plessis makes an incredible leaping stop. Then Guptill skies one high into the air over mid-off, an absolute steepler and Botha takes the catch!
From MattSuarez7: "Robbie P has been one of the surprises of the World Cup. In and out of the team but one of our best players so far."
Tweet us with the hashtag #bbcworldcup to get involved
5 overs Commentary NZ 15-1
Off-spinner Johan Botha, a thick layer of sun cream smeared across his nose and cheeks as if he's just had an iced bun shoved into his face, replaces Peterson and bowls tightly to the left-handed Ryder, a man who, I dare to suggest, may have enjoyed the odd iced bun in his time. Big Jesse steers a single off the last ball.
From priyen_mehta: "SA playing with 5 bowlers plus Kallis! Might be a bit short in the batting although Botha and Peterson can bat."
And I've always thought one of NZ's strengths is that they nearly all bowl, and nearly all bat. Jacob Oram at nine, for instance, when he's traditionally batted at five, six or seven. Tweet us with the hashtag #bbcworldcup to get involved.
From Sam Cottis, TMS inbox: "South Africa have a pretty long tail with picking five out-and-out bowlers. Getting to it isn't easy but I fancy NZ if the pitch does a bit."
3 overs Commentary NZ 14-1
Steyn has Jacques Kallis in catching at short point for Ryder, who lifts it over Kallis but a smart bit of fielding by JP Duminy at backward point denies them a single. Bryan Waddle on TMS thinks Ryder was "ball-watching" – and that NZ's left-hand/right-hand combo ought to be rotating the strike as often as possible. Steyn bowls the first wide of the day, then fortune favours Ryder as he gets an inside edge past the stumps for four. Steyn drops short. Ryder pulls over mid-on and they run three.
From AltCricket: "Stat of the Day: In nine World Cup knock-out matches between them, NZ and SA have failed to win a single game!"
3 overs Commentary NZ 6-1
Jesse Ryder is the new batsman – will we see a big innings from Big Jesse today? The burly left-hander turns a single off his legs.
2.1 overs WICKET B McCullum c and b Peterson 4 (NZ 5-1)
McCullum tries to get after Peterson, who takes a superb caught and bowled diving to his left!
2 overs Commentary NZ 5-0
Pace ace Dale Steyn takes the second over, McCullum pushes his first ball into the covers and that's a well-run three. Guptill is more watchful, playing out the rest of the over. "It's not about the big bluster at the start," insists TMS commentator Bryan Waddle.
From Jordan Sinclair, TMS inbox: "I think the SA spinners will strangle the Black Caps – be prepared for a very pedestrian innings from the New Zealanders 220 at best! Imran Tahir will get a Michelle (Pfeiffer) today, that man loves taking wickets more than Kallis loves his new hair!"
Contributor BBC Test Match Special's Danny Morrison
"I had a good look at the pitch beforehand, and they have left some grass on – it may help the ball skid on a little."
Slow left-armer Robin Peterson is handed the new ball, Guptill has a look at the first three deliveries before knocking a single off his legs. McCullum pushes a single to mid-on.
Martin Guptill and Brendon McCullum are opening for New Zealand. Will South Africa start with a spinner?
And an interesting line on Cricinfo – apparently the reason Kallis doesn't sing the SA anthem is that he recently lost both his parents, and has said he "sings the anthem in his heart in a quiet moment in remembrance of them", according to Cricket SA's Gerald Majola.
Anthem time. South Africa's is quite choral – most of the players sing (Kallis and Tahir don't, while Smith mumbles a bit), while JP Duminy and Morne van Wyk do the full singing-with-hand-on-heart routine. They've got plenty of flag-waving fans in the stadium, as have New Zealand – whose players all adopt the arms-around-each-other's-shoulders pose while a female singer belts out their anthem, and we're nearly ready to go in Mirpur.
Contributor BBC Test Match Special's Neil Manthorp
"South Africa have always had a policy of having a first XI with two or three players in reserve. Now they could pick anyone from their 15."
Contributor BBC Test Match Special's Adam Mountford
On Twitter: "Andrew Strauss: 'Yes the person who is opening the batting knows and has known for a couple of days'. But is it Prior, Bell or Bopara? Strauss on Jimmy Anderson: 'He's fresh having had nine days without cricket… He bowled well at me in the nets the other day. Has a chance of playing'."
As Test Match Special takes to the airwaves, I can encourage you to send us your thoughts as usual – you can email tms@bbc.co.uk (with "For Mark Mitchener" in the subject line), text 81111 (with "CRICKET" as the first word – this is important today as we share the inbox with F1 and others), or tweet us with the hashtag #bbcworldcup. If you've not done so before, come on in and join the fun…
Comedian Andy Zaltzman: "Stumpy The Elephant's rheumatoid arthritis seems to have flared up today. Sad."
We haven't seen much of Stumpy at this World Cup, apart from hanging around in the background behind MCJ Nicholas or whoever's officiating at the toss. A distinct change from Mello, the orange raccoon mascot from the last World Cup, who seemed to be omnipresent in the Windies, usually posing for pictures with his arm around attractive ladies.
Vettori, by the way, said he was fine to bat and bowl, but wasn't moving too quickly – so would have to "hide" himself in the field where possible. Something anyone who's ever captained me has plenty of experience of doing.
And a stat for you: New Zealand's average score batting first in this World Cup is 289 – that would be a very good score for Mirpur, where today's action takes place.
0806 Commentary TEAM NEWS
Here are the full teams:
South Africa: Graeme Smith (capt), Hashim Amla, Jacques Kallis, AB de Villiers (wk), JP Duminy, Francois du Plessis, Johan Botha, Robin Peterson, Morne Morkel, Dale Steyn, Imran Tahir.
New Zealand: Brendon McCullum (wk), Martin Guptill, Jesse Ryder, Ross Taylor, Scott Styris, Kane Williamson, Nathan McCullum, Daniel Vettori (capt), Jacob Oram, Tim Southee, Luke Woodcock.
Umpires today are Pakistan's Aleem Dar and Aussie Rod Tucker, with Sri Lanka's Kumar Dharmasena taking the initiative on TV replays. English representation today is provided by fourth ump Nigel Llong, with Sri Lanka's Roshan Mahanama as match referee.
0802 Commentary TOSS NEWS
New Zealand win the toss and bat first. Vettori's fit. They bring in slow left-armer Luke Woodcock in place of left-arm seamer James Franklin.
South Africa skipper Graeme Smith admits he definitely would have batted. Morkel and Steyn return in place of Lonwabo Tsotsobe and Wayne Parnell, as we expected – while AB de Villiers is fit, and will keep wicket, with Morne van Wyk omitted.
If you weren't around yesterday, by the way, you can watch highlights (if you're in the UK) of India's win which dethroned Australia after three successive World Cup wins – there will be a fresh name on the trophy this time. There's also video interviews you can watch with Yuvraj Singh and Ricky Ponting.
Contributor BBC Test Match Special's Adam Mountford
On Twitter: "Kumar Sangakkara says Murali is fit to play [against England on Saturday] – he's 100% fit."
Morning, everyone. If you've not been up since the early hours following the start of the new Formula 1 season, welcome along to the third World Cup quarter-final. On the menu today is South Africa v New Zealand, which gets under way at 0830 GMT – with Test Match Special on air from 0815. News of the toss as we get it.
The Proteas are expected to recall fast bowlers Dale Steyn and Morne Morkel after they were rested for the final group game, while a question mark remains over whether AB de Villiers will be fit. The Black Caps have had so many injuries it's difficult to guess their side, but their main concern will be over their captain – and lynchpin – Daniel Vettori.