AHMEDABAD, India, (Reuters) – Ricky Ponting's  battling century could not prevent another blot on his captaincy  record but the Australian walked into the World Cup sunset  knowing he had at least salvaged his batting reputation.
Back home, the clamour was growing for his removal and a day  before the quarter-final defeat by India, Ponting was busy  quashing retirement rumours sparked by a string of low scores in  the tournament.
The 36-year-old batsman did not want to leave one-day  cricket's biggest stage without a last hurrah.
His 30th ODI century — a 118-ball 104 against India on  Thursday — may not rank among his best but it bore the hallmark  of his characteristic belligerence.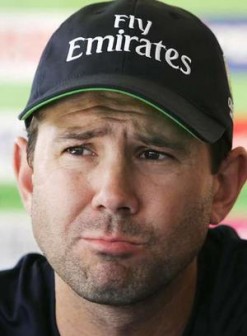 Having led Australia to three Ashes defeats, Ponting also  presided over their spectacular demise as ODI world champions  after a remarkable 12-year reign that ended in what he reckoned  was his last World Cup match.
"As things turn out, it could be my last World Cup game. If  I end up having made a hundred in my last World Cup game, then I  guess I can be pretty happy at the end of the day," Ponting told  reporters.
But the pain was written all over his face when asked if he  felt like a tragic hero since his ton failed to lift his team to  victory.
"I don't know how to answer that question. I'm not a tragic  hero. I'm not feeling much of a hero right now," he said.
"This is not the first time I've got a hundred and we lost.  It happens."
It, however, did not happen in the 2003 final — last time  India and Australia met in the World Cup — when Ponting's  blistering century earned his team the title.
He disagreed Australia's days at the top ended with the  defeat.
"I don't think so. It's premature to say that it was an era  in cricket," he said.
"We are still a very competitive side… we lost our last  two games in this World Cup. I'm disappointed about that. I  think we are probably a better game than we showed in the last  two games."
Ponting, who has accumulated more than 25,000 international  runs, made it clear that he is not interested in retirement  talks.
The Tasmanian even mildly rebuked a journalist for asking if  he would give retirement a re-think after the defeat.
"Nothing has changed," he asserted.
Around the Web