TOKYO (Reuters) – Radiation injuries to three workers complicated the battle to control Japan's crippled nuclear plant today and heightened global anxiety over the worst atomic crisis in 25 years.
Hailed by Japanese as anonymous heroes braving unknown dangers, about 300 engineers have been working around the clock to stabilise the six-reactor Fukushima complex since an earthquake and tsunami struck two weeks ago.
But they had to pull out of some parts of the complex, 240 km (150 miles) north of Tokyo, when three workers replacing a cable near reactor No. 3 were exposed to high contamination by standing in radioactive water on Thursday, officials said.
Two were taken to hospital with possible radiation burns after the water seeped over their boots.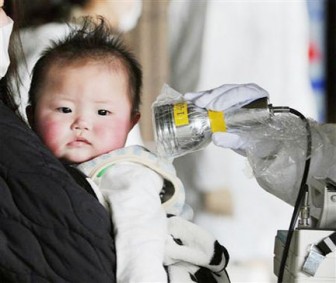 "We should try to avoid delays as much as possible, but we also need to ensure that the people working there are safe," said Japanese nuclear agency official Hidehiko Nishiyama.
Safety fears at the plant and beyond — radiation particles have been found as far away as Iceland — are compounding Japan's worst crisis since World War Two.
As well as causing the most serious nuclear accident since Chernobyl in 1986, the March 11 quake and ensuing tsunami left about 27,400 people dead or missing across the northeast.
Despite increased radiation reports, fears of a catastrophic meltdown at the Fukushima plant are receding.
Two of the reactors are now regarded as safe in what is called a cold shutdown. Four remain volatile, emitting steam and smoke periodically, but work is advancing to restart water pumps needed to cool fuel rods inside those reactors.
"It's much more hopeful," said Tony Roulstone, a nuclear energy expert at Cambridge University. "The most difficult thing is keeping the (spent-fuel) ponds cool, where they are using fire hoses."
Tokyo Electric Power Co (TEPCO) said the three injured workers were carrying radiation meters but ignored an alarm when it rang. Engineers would be briefed again on safety.
"They are working in a harsh environment," TEPCO official Akira Suzui said during an overnight briefing.
The crisis has raised apprehension about nuclear power both in Japan and beyond, and the government of the world's third-largest economy plans to review the industry.
"Public confidence in nuclear power plants has greatly changed," Chief Cabinet Secretary Yukio Edano, who has been the government's public face during the crisis, told Reuters.
"In light of that, we must first end this situation and then study (it) from a zero base."
The Asian nation's 55 nuclear reactors provide about 30 percent of its electric power. The percentage had been expected to rise to 50 percent by 2030, among the highest in the world.
Heightened by widespread public ignorance of the technicalities of radiation, alarm has been spreading.
Vegetable and milk shipments from the areas near the plant have been stopped, and Tokyo's 13 million residents were told this week not to give tap water to babies after contamination hit twice the safety level.
But it dropped back to safe levels the next day, and the city governor cheerily drank water in front of cameras at a water purifying plant.
Despite government reassurances and appeals for people not to panic, many shops saw bottled water flying off the shelves.
"Customers ask us for water. But there's nothing we can do," said Tokyo supermarket worker Masayoshi Kasahara.
Around the Web