Actress Shelly Bancroft will take the stage tomorrow for a show that could end up literally saving her life.
Bancroft will join other performers at the National Cultural Centre in a held over production of Maria Benschop's 'Nothing to Laugh About 4' in a bid to raise funds for heart surgery. Half of the proceeds of the show are to be gifted to her for the surgery.
Bancroft was diagnosed with rheumatic valvular heart disease with dominant features of mitral valve incompetency many years ago and while medication was enough to treat her condition, these past few months it has worsened. "I was on medication which helped a lot but it's not effective anymore and now the surgery is my last hope," Bancroft told Stabroek News yesterday. She explained her history of progressively worsening shortness of breath and functional capacity, saying that life has not been normal for her for as long has she could remember.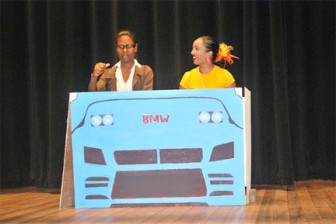 But Bancroft never allowed her illness to slow her down and she blazed a trail of academic excellence and later embraced the local stage. She is a trained teacher who got her first break working for director Ronald Hollingsworth while she was still in training college. She not only worked as an actress but spent many years doing stand-up comedy at Upscale Restaurant.
It was just over two weeks ago when doctors at the Caribbean Heart Institute (CHI) informed Bancroft that she needs urgent surgical management for her mitral valve disease. The surgery would cost in excess G$2M dollars and Bancroft has a month to raise the funds. "I am not close to that money 'The surgery is my last hope'
– Shelly Bancroftbut let's see what happens," she said yesterday.
Maria Benschop, who accompanied Bancroft for the interview, said she decided to hold over the show because "Shelly needs us." She said that Bancroft had been with the production since its start a few years ago and has performed creditably.
Benschop said many of the actors readily agreed to reprise their roles to assist Bancroft despite the short period they had to prepare. She noted that Bancroft appears in the opening skit of the show, in addition to several other sketches.
Benschop along with actor and comedian Lyndon 'Jumbie' Jones organised a telethon last Thursday to raise funds for Bancroft. They were able to secure some funds but it was "nothing major," according to her.
Bancroft is expected to have the money for the surgery by next week and she remains optimistic.
She said that her life has been a struggle due to the condition because she is unable to work normal hours. Her work as an educator at Queenstown Secondary School has been affected tremendously since she only manages a few hours a day. Some days, she never makes it out of the house.
"I never try to think about what would happen if I don't get to do the surgery," the actress said, while fighting back her emotions. She has two young children who are trying to cope with her illness and according to her, they also have fears.
Around the Web