AHMEDABAD, India, (Reuters) – A cricket-crazy  nation remains enamoured with Sachin Tendulkar's single-minded  quest to own every available milestone but statistics suggest  Yuvraj Singh has been India's most valuable player in the World  Cup so far.
With four half-centuries and one century, Yuvraj (341) ranks  fourth in the highest run-scorers' list after India's  quarter-final victory over Australia.
He is also the second highest Indian, after Zaheer Khan  (17), in the wicket-takers' chart with 11 scalps.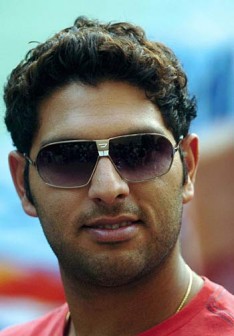 Quite an impressive haul by a part-time spinner whom Kevin  Pietersen had famously classified as a "pie-chucker" and a  practitioner of "left-arm filth" in 2008.
Yuvraj shares a love-hate relationship with the Indian media  and the 29-year-old southpaw was rather surprised when he got a  standing ovation from the assembled journalists.
"For the first time in my life there have been claps in a  press conference. I am sure this is a special moment for me,"  Yuvraj said after collecting his fourth man-of-the-match award  of the World Cup on Thursday.
His answers were often tinged in irony but then he had  silenced his critics with the bat and ball.
Despite his proven power-hitting prowess famously exhibited  when he hit England bowler Stuart Broad for six sixes in an over  in the 2007 Twenty20 World Cup, Yuvraj's batting has been a  revelation in the tournament.
REMARKABLE TRANSFORMATION
"The plans are working for me. I'm trying to hit the ball  down the ground and not in the air and hit it into the gaps. I  want to bat till the end, stay till the end."
Yuvraj's new-found batting philosophy perfectly suits the  team and his captain Mahendra Singh Dhoni is not complaining.
It has been a remarkable transformation for Yuvraj whose  temperament, and not talent, was often in doubt.
His fans believe the flamboyant cricketer is a victim of his  own image but critics point out his failure to cement his place  in the test squad despite hanging around for more than a decade,  blaming it largely on a lack of discipline.
Even for them, Yuvraj's sense of responsibility in the World  Cup has come as a pleasant surprise and no one is happier than  Dhoni.
"I am a great fan of Yuvraj," Dhoni said earlier this month.
"He can change the way he normally plays and bat according  to the demand. His bowling comes as a big asset too, especially  since we play with four bowlers and he does the job of the fifth  bowler."
Yuvraj's bowling has been so effective that he has  completely overshadowed frontline spinner Harbhajan Singh who  seems happy containing the batsmen.
As his rich vein of form in India's triumphant 2007 Twenty20  World Cup would testify, Yuvraj's sense of occasion has always  been impeccable and Dhoni would expect him to continue his  purple patch for two more matches here.
Around the Web