Today Jaipaul Surujpaul turns 59. It's a bittersweet birthday for the security guard and victim of a vicious cutlass attack that has left him an amputee.
"It feel fuh know the hand come off wrongfully. You and nobody nah geh no trouble, no story or nothing and fuh lose the hand just like that it feel me too much… It feel me ah lot," Surujpaul said as he broke into tears.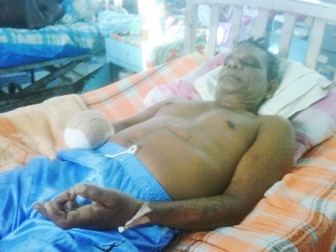 Surujpaul was speaking from his bed yesterday afternoon in the Male Surgical Ward of the Georgetown Public Hospital. Clad in blue boxer shorts, the man lay on his bed and wept over the loss of his hand.
The amputated right hand was a stub; bandaged just under his elbow. His left hand was caked with dried blood and bore old stitch scars. Some fingers on that hand were curled in while the ring finger was pointed straight out.
When his sobs subsided, Surujpaul found consolation in his milestone. "Tomorrow me live fuh see meh birthday. God save me fuh meh birthday feel nice," he said with a sad smile. Surujpaul said he is looking forward to spending a little time with his children and grandchildren when they come to visit him on his birthday.
On March 5, Surujpaul was allegedly attacked by a fellow security officer, at the Houston high bridge with a cutlass.
The man, who has since been charged with unlawful and malicious wounding, is accused of attacking Surujpaul over a past grievance.
Surujpaul's right wrist was chopped almost cleanly off and his fingers on his left hand were chopped. He was also chopped to the head.
Since the attack, Surujpaul had two operations on his right hand. He came close to losing his hand the very next day after the attack, but did not. Surujpaul took that as a sign that things were going to get better but by Tuesday night things got worse.
According to his daughter Haimeattie Jaipaul, when doctors examined her father's hand on Tuesday night there was a foul odour coming from it. Jaipaul, who was at her father's bedside making sure he took the prescribed pills, said they had noticed the hand getting blue after last Friday's operation.
So on Wednesday, doctors removed Surujpaul's hand.
'Now I really can't
be a handyman'
For nearly 9 years, Surujapul has been a security guard. Now that he has lost his right hand, he will no longer be able to do the job which he loved. "Now I really can't be a handyman to wuk nowhere. Me can't do no job cause the right hand come off and then the left hand the couple fingah what ah move all gun be like disability meh gah deh pun," said Surujpaul.
Surujpaul said he will particularly miss being a security guard. "Security is a nice job you reach nice wuk mate. Handing over, taking over that is the most important thing but some of the workmate ain't nice at all with you," he noted.
Once the sole breadwinner for his wife and disabled grandson, Surujpaul became teary-eyed once more at the thought of having his wife take care of the family. "She does do a lil small fish wuk, like salt fish, at least she gun gah do that fuh a lil living to keep up the home."
Surujpaul's biggest fear about returning to work as a security guard is being mistreated by others. "Somebody gun spite yuh and lash yuh…," he said. The ridicule that may come from being an amputee would be too much for him, he feels.
However, Surujpaul is thankful for the support of his family. He believes that if they were not there in this trying time "me wudda done dead."
His daughter pointed out that they have no choice but to support him given his condition and stated that they will continue to support him as he recovers.
But Surujpaul is optimistic about his life without his right hand. "Me nah gun study that no more at least meh gun get lil help somewhere me gun accept it. Me gun study meh church and thing now me get extra time," he said.
And he has only one birthday wish, "Me want all ah them pray fuh me so me could live to see ah next birthday strong and more stronger than whey meh deh hey now."
Around the Web