Almost 4 months since it was expected to be put into operation, a container scanner recently installed by the Guyana Revenue Authority (GRA) at a city wharf remains unused after it was mysteriously damaged.
Commissioner General of the GRA, Khurshid Sattaur had announced late last year that the machine was expected to be operational by January this year.
When contacted yesterday, Sattaur offered no comment but said a press release would be sent out on the operation of the machine some time next week.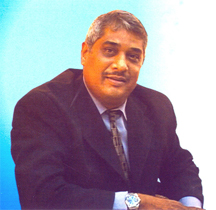 Last week, he had disclosed that the scanner was not operational, when asked about its use in the possible detection of the cocaine seized by Jamaican authorities aboard a vessel from Guyana. "Some final touches are being done," he had said.
The machine was brought into Guyana in mid-2010 from the United States and was purchased at a cost of approximately $200 million, with an additional $40 million being installation cost. The scanner has the capability to scan containers at a rate of 10 per hour or six minutes to scan each container.
This newspaper was told that the machine was tested in January, and a one-week training session was subsequently undertaken for staff to operate it. In February, the machine was tested by the staff members who were trained in its use and was operated for one week and was left unused for another week so that an office could be set up at the location.
However, soon after staff members returned to the location the machine suffered a mechanical problem under mysterious circumstances.
"The guy came from US — an engineer — and fixed it," a source said and the machine was in operation for a second time. During the second week of this month, staff were again making preparations to utilise the machine, "but the next day apparently somebody drive into it and damage it," the source said. Markings which correspond to that of a vehicle were evident on the machine, the source noted.
The machine was subsequently made operational but was not working at the 100% capacity as it should have. The source said GRA has been making attempts to fly in the US-based engineer to remedy the problem.
It was noted that the GRA spends a hefty sum in bringing the engineer to these shores to attend to the machine while concerns were raised by staff about security at the location since none had been placed there.
"Imagine an expensive and important piece of equipment like that just sitting there without any security," a source noted.
Last December, the GRA stated in a release that the machine was expected to result in a more advanced and efficient system of examination of imported and exported containerised cargo.
According to a release, Sattaur  said, "the Non-Intrusive Detection Equip-ment is expected to be put into operation by January 1, 2011 and it is expected to result in more timely examinations and clearance of containerised consignments while impacting positively on revenue collections and aiding in the detection of narcotic substances that may be included in cargo to be exported."
The scanner was also touted as being a deterrent to persons who are likely to submit false declarations.
Around the Web