The International Training & Education Centre for Health (I-Tech), which has been working collaboratively with the Ministry of Health (MOH) in Guyana since 2005, was brought to an official close yesterday afternoon.
Giving an overview of the programme in Guyana, Country Director Dr Wallis Best-Plummer said I-Tech, formerly the International Training and Education Centre on HIV, was founded in 2002 by the Health Resources and Services Administration (HRSA) of the US Government in collaboration with the Centers for Disease Control and Prevention as an international model of the US domestic AIDS Education and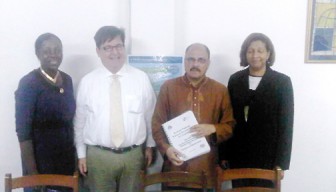 Training Centers (AETCs). This programme is a collaborative effort between the University of Washington (UW) and the University of California, San Francisco, and is situated in the Department of Global Health at UW in Seattle, and the Center for AIDS Prevention Studies in San Francisco.
I-Tech's main objective is to work with health ministries to increase human and institutional capacity for care and treatment. It has additionally partnered with other agencies such as universities, non-governmental organisations (NGOs), and medical facilities.
Its initial focus was on the achievement of the President's Emergency Plan for AIDS Relief (PEPFAR phase 1), but the organization "has evolved in parallel with the shifting focus of PEPFAR Phase 2 and President Obama's Global Health Initiative."
According to Best-Plummer, I-Tech began its work in Guyana as a sub-grantee of the Francois-Xavier-Bagnoud (FXB) Centre of the University of Medicine and Dentistry of New Jersey, and at Minister of Health Leslie Ramsammy's request, its scope of work sought to strengthen training of united health care workers in HIV/AIDS. I-Tech also sought to strengthen the coordination of training being undertaken by the MOH's partners. This led to the creation of the Guyana National Training and Coordinating Centre on HIV (GYNTCC), which was to ensure that all trainings were collaborated and coordinated under one national umbrella, to avoid duplication of training.
"Over a period of six years of working in Guyana, I-Tech has proudly facilitated the production of internationally standardized, collaboratively developed, accurate, current and accredited basic HIV and AIDS curricula for training specific cadres of Guyanese health care workers – nurses, pharmacists, medics and community health workers," the director said
I-Tech has also been in partnership with the Centers for Disease Control and Prevention (CDC) in Guyana in a number of areas. According to CDC's program manager Nicolette Henry, among these activities is the development of training programmes for tutors of the nursing school. It has also assisted by providing improved supervisory skills to senior health workers and health education/health promotion tools for a community-based health volunteer programme.
Henry added that I-Tech has also succeeded in making inroads to the interior; mainly in Region One, through the Hinterland Initiative Project, which expanded HIV/AIDS services to Region One and Nine. "In Region One, the main focus was on collaborative educational programmes that strengthened the capacity of community healthcare workers and volunteers to deliver sustainable and high quality services," she said. Henry also mentioned that the Hinterland Initiative Project was funded by the CDC.
Giving the closing remarks at the ceremony, Minister within the Ministry of Health Dr Bheri Ramsaran said that they will try to maintain the partnership between the ministry and I-Tech, and added that those responsible for I-Tech's activities "can go home, not with emotions, but with the firm conviction that your investment here has produced what you expected it to."
The closing was held at the CIDA Boardroom, on Main Street, Georgetown.
Around the Web