COLOMBO, (Reuters) – Openers Tillakaratne Dilshan  and Upul Tharanga made merry against a listless England attack  and powered Sri Lanka to a 10-wicket victory in the World Cup  quarter-finals today.
Dilshan (108 not out) and Tharanga (102 not out) both notched  up their second centuries in the tournament and with it their  second double hundred stand in the showpiece event.
The duo made the 230-run target look ridiculously easy and  hardly broke a sweat as they took Sri Lanka home with all their  wickets intact and 63 balls to spare.]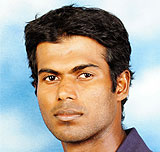 While England were left to digest their first ever 10-wicket  defeat in the tournament, Sri Lanka set up a semi-final date  with New Zealand.
Tharanga, who needed a runner towards the end of his innings  after suffering from cramps, hit the winning boundary which also  brought up his 11th ODI hundred.
The England bowlers looked utterly toothless on a slow pitch  at the R Premadasa Stadium, which was supposed to help the spin  bowlers.
But to his horror, captain Andrew Strauss found his two  spinners — Graeme Swann and James Tredwell — to be the most  expensive under an assault from the two batsmen.
"We couldn't get that breakthrough. We tried a lot of  things. It was a very flat wicket and we were thoroughly beaten  by a much better team today," Strauss said during the  presentation ceremony.
"But over the course of the tournament our cricket hasn't  been good enough. We have to be honest of ourselves. We didn't  play well enough and that's why we are going home."
Earlier, Jonathan Trott rescued England from a poor start to  help them post 229 for six as Sri Lanka missed a slew of easy  catches to let them off the hook.
Trott (86) added 64 runs for the third wicket with Ravi  Bopara (31) and 91 runs for the fourth with Eoin Morgan (50) to  anchor England's batting.
Sri Lanka went into the match with three frontline spinners  — Muttiah Muralitharan, Ajantha Mendis and Rangana Herath —  who made it tough for the batsmen to score with their tight line  and length.
Morgan was dropped three times — on 16, 33 and 34 — while  television replays showed he was also lbw to Lasith Malinga, a  decision Sri Lanka did not appeal.
Mendis was the unfortunate bowler on the first occasion  while an infuriated Muralitharan watched on as the left-handed  batsman was spilled twice in the space off three deliveries.
England got off to a terrible start and were reduced to 31  for two inside nine overs, after Strauss won the toss and  decided to bat first.
Around the Web