Stacey Sampson, who on January 10 admitted to stealing $40,585 from the Guyana Defence Force (GDF), was on February 25 ordered probation supervision by acting Chief Magistrate Priya Sewnarine-Beharry.
The terms of the order requires counselling services for Sampson and for her to cooperate with the probation officer that would be assigned to her. Additionally, if she removes from her current address, she was ordered to inform the probation services of her new residence.  The court took into consideration the fact that the defendant did not waste the court's time and saved time in having to conduct a trial.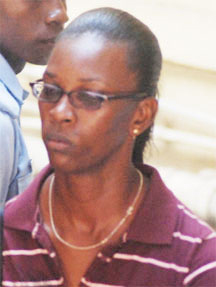 The woman's attorney, Kim Kyte-John appealed to the Magistrate to temper justice with mercy before the order was made. The lawyer asked too that a custodial sentence not be handed down.
Kyte-John informed the court that since the incident, her client had repaid the money she stole from the GDF.
At the end of the proceedings, both Sampson and her lawyer thanked the Magistrate for showing mercy while Sampson told the court that she will obey the terms of the order given.
Magistrate Sewnarine-Beharry warned the defendant that failure to observe the conditions of the order will result in imprisonment for one month.
Sampson, 28, of El Dorado Village, West Coast Berbice, admitted that on September 15, at Camp Ayanganna, being employed as a clerk or servant by the GDF, she stole the sum of $40,585.
When asked by Magistrate Sewnarine-Beharry why she stole the money, Sampson replied, "I was in need of it because I had some business to look after."
After pleading guilty to the charge of larceny by clerk or servant, she then indicated to the court her willingness to repay the money.
Around the Web