Dr Yash Ghai, former Chair of the Kenya Constitutional Commission, yesterday cautioned against the coercive powers of the state and the deliberate weakening of civil society, saying that they are used by power-hungry politicians to fuel conflict.
He likened politicians to colonists, saying that many pursue higher office because the easy way to power is capturing the state.
Professor Ghai, an eminent Kenyan constitutional lawyer, made the comparison during a public lecture yesterday under the theme, "The Role of the Constitution in building an inclusive future." He was in Guyana at the invitation of the "Facing the Future" civil society initiative and delivered a stirring lecture which drew comparative perspectives, particularly with Kenya.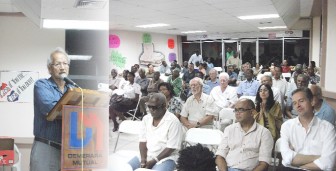 Referring to Max Webber's characterization of politicians, he said there are two types—those who live for the politics and those who live by politics, with the latter group plundering the country for their own gains. The majority of Kenyans fall victims to the second group of politicians, he added.
The Professor said he felt comfortable speaking about Kenya and its problems as opposed to directly commenting on what prevails in Guyana, but many of his statements on their problems of political and ethnic issues were understood within the context of this country's own problems.
He observed that when countries are beset by ethnic problems, it is important to go underneath the tensions and find real solutions. He stressed that day-to-day engagements with ordinary people is crucial, particularly in countries poverty is visible and people are demoralized.
Kenyan politicians play to ethnic sentiments and rarely discuss policies, he said, while noting that his own studies have examined whether the President was practicing nepotism. What he found was that some "cronies and friends" of the government were beneficiaries, but there was no clear indication that people within his tribe were largely benefiting.
Dr. Ghai said the stimulation of ethnic loyalties is a primary tactic of Kenyan politicians, noting that they deliberately play on people's sentiments during certain periods in the country including elections. In exploring why this happens, he said that the state is a dominant force where money flows in and out, and for those craving power and wealth an easy way is to run for office.
"I asked a senior politician in Kenya why do you play on ethnic sentiments and never talk about policies and he said it was the easy way to get votes…to play on the ethnic card and this is true in some countries," he recalled. He argued that to understand competition, which takes an ethnic form, it is important to understand the state and its role in society.
He continued that the state which Kenya and many other countries inherited "reflected an imperial power," which was passed over to local leaders.
The state never really gets properly democratized and/or made accountable, he said, adding that it retains the oppressive machinery of colonialism.
Dr. Ghai observed that Kenyans live together with minimal tensions until elections and according to him, elections there are often fraught with bribery, rigging and violence. "Why it is only at elections that we have these problems?" he asked, while reiterating that it goes back to politicians. He added that inciting violence is a campaign strategy to capture power.
He said too, "This is why we have to pay attention to the state, its coercive power and its domination of civil society." He argued that this is the problem and not ethnicity, noting that tensions are fuelled by people with ambitions of gaining political power.
In pointing to solutions, he said power sharing is important, but equally there is the need to transcend race and examine the underlying causes of the conflicts. He also stressed dialogue with the citizenry and recalled that when former UN Secretary General Kofi Anan went to Kenya during the violent clashes following their elections in 2008, he did not negotiate with the people. He said that the UN Secretary General spend time with the politicians and the business community.
"Let's ask the people what they want and focus on nation building…there is a need too for integrity," he said. Further, he said that politicians want to cherry-pick where the Constitution is concerned and ignored the sections which are relevant to the people, adding that constitutional provisions are often violated in many countries.
Following the lecture, Dr. Ghai and a panel including Guyanese Dr. Bertie Ramcharan, fielded questions during an interactive session. Several questions were posed about Guyana's problems and Dr. Ghai observed that some of the answers were implicit in his lecture.
One speaker said his lecture sounded too familiar and could have easily been on Guyana.
Around the Web