MUMBAI, (Reuters) – Captain Shahid Afridi has  brought aggression and leadership to the Pakistan team at just  the right time, senior batsman Misbah-ul-Haq said on Sunday.
The 1992 world champions have been unable to play  international matches at home since the 2009 armed attack on the  Sri Lanka cricketers in Lahore, and the recent spot-fixing  scandal raised doubts about their players' integrity. The  scandal deprived them of the services of Salman Butt, Mohammad  Asif and Mohammad Amir, and there were few prepared to bet on  Pakistan winning the World Cup for the second time.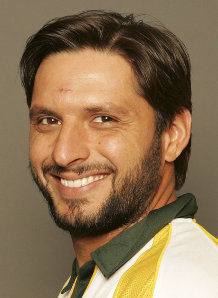 But under Afridi they topped their group and then made short  work of West Indies in the quarter-final to set up Wednesday's  semi-final against rivals India in Mohali.
"What we needed was aggression, and Afridi, I feel, has  shown enough aggression on the field. Most importantly, he leads  by example," Misbah told reporters.
"He is taking wickets and coming out at the right moment to  do what the team needs. He also stands by a player and  encourages him to perform better."
Afridi is the leading wicket-taker in the tournament, with  21 scalps from seven matches.
Pakistan have shown plenty of discipline and teamwork  despite the presence of a couple of former captains.
"There is difference of opinion at times but we finally go  by what the captain says," said Misbah, who led Pakistan in the  last test series against New Zealand.
"At the same time, the captain discusses things with the  coach and senior players before taking a major decision. There  is a good coordination among us.
"We are a well-knit unit and everyone is chipping in at the  right moment and every player is fulfilling his role in the  side."
The World Cup final takes place on April 2 in Mumbai.
Around the Web