(Jamaica Gleaner) Thousands of Caribbean teachers who were lured to the United States with promises of better-paying jobs, improved educational opportunities, housing assistance, and the path to permanent residency are crying foul, claiming that they are victims of victimisation.
Some have staged public rallies since the start of the month to air their grouses and have since formed an alliance with an American lobby and will take their case to the deputy mayor of New York tomorrow, accompanied by Congresswoman Yvette Clarke.
Jamaicans, Bahamians, Trinidadians, Grenadians, St Lucians, Dominicans – all recruited by New York City Schools, some from as far back as 2001 – are yet to receive promises of permanent residency. They say they have had no support from the Department of Education (DOE) in a report tagged 'Broken Promises' that has sparked a firestorm in the United States.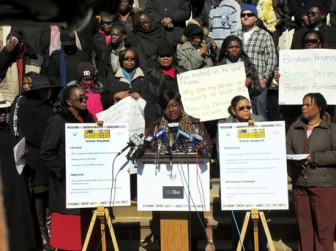 "We have been classified as unskilled workers and are treated as indentured servants. How is this possible when we were chosen because we were the best and brightest our countries had to offer? This is an egregious situation, and we are demanding redress from the city, state, federal, and international levels," chairman of the International Association of Educators (IAE), Judith Hall, told The Sunday Gleaner.
Describing the promised green card as "ephemeral", Hall said, "It's like a mirage. Every time you try to grasp it, you find it's beyond your reach."
After 10 years in the US, Hall has two master's degrees and a principal's licence since 2008 – which she cannot use – and no pension. Her son cannot access any form of scholarship because he is treated as an international student, and her spouse cannot work.
Disenchanted and fearing deportation, Hall, a Jamaican, and her team of 400-strong educators, have joined forces with The Black Institute, an organisation founded to shape intellectual discourse and dialogue, and influence public policy from a Black perspective. This includes all people of colour in the United States and throughout the diaspora.
The Black Institute was founded by Bertha Lewis, former CEO of the Association of Community Organisations for Reform Now (ACORN).
Lamenting the uphill battle, Lewis said she has had to fight with little information from the DOE on the number of teachers affected, however, she estimated that the figure ranged from a minimum of 2,000 to anywhere between 5,000 and 8,000, and "that's what we have pieced together".
She said the educators had paid an average of US$10,000 each over the last eight years to lawyers recommended by the DOE. The job of the lawyers was to make their transition to permanent residency seamless.
The IAE said it later found out that these same lawyers were employed to the DOE.
At tomorrow's meeting, Lewis said that she wants the status of the immigrant teachers addressed first and foremost.
"The first thing we want is to have these teachers' status changed to skilled professionals," stated Lewis. Currently, they are classified as unskilled labourers, even though many of them are holders of bachelor's and master's degrees.
Wants reinstatement
Lewis, who argues that these immigrants have been totally abused and used by the system, also wants all international teachers who were dismissed immediately reinstated as "unlike others, they never got due process". Of note is the fact that European teachers are not given the same treatment. The Caribbean educators fall in the same category as countries such as the Philippines and Africa, said the IAE.
According to Lewis, one of the many horror stories coming out of the 'broken promises' was the disintegration of families. "Because of their H-1 status, their spouses cannot work, and when they were recruited, they were promised legal help, that their spouses could work and their children would be taken care of."
Teachers are allowed to work on a J-1 'exchange' visa for two years. After that, an H-1B visa is required to establish eligibility of residency for their families.
Around the Web