JOHANNESBURG, (Reuters) – The pressure of the  "chokers" tag caught up with South Africa and caused them to  lose composure in their shock World Cup quarter-final defeat by  New Zealand, coach Corrie van Zyl said on Sunday.
South Africa, despite invariably showing superb form in the  early rounds, have never won a knockout game at the World Cup.  This time was no different as after losing just one match to top  Group B, they lost a fifth successive knockout game on Friday.
"Pressure is obviously a major thing in the World Cup and in  the knockout rounds, especially because you know it's your last  opportunity," Van Zyl told a news conference in Johannesburg.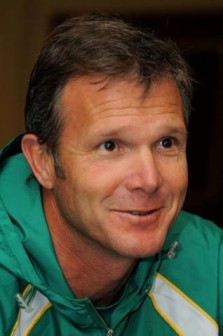 "It's important to keep your composure and we weren't able  to do that. Maybe it was the burden of previous generations that  caused us to lose composure.
"The opposition see every opportunity to use the word  'chokers' on and off the field for one reason: to get at us  mentally.
"But when our own fans keep reminding us of the past, it  doesn't provide motivation, it just brings extra pressure. We  need to deal with this in a different way as a nation, we need  to stick together."
South Africa were 108 for two chasing what should have been  a manageable 222 but they then crumbled and were bowled out for  172 in Dhaka on Friday.
"The pressure all starts building up, the players always get  reminded of the past," said Van Zyl. "Most of this squad were  not part of the previous World Cup defeats, but the people make  them a part of it."
GOOD CRICKET
The Dhaka defeat was especially bitter for Van Zyl, who was  an assistant coach at the 1999 World Cup, when South Africa were  eliminated by Australia, and at the 2003 event they hosted.
"It's hard to describe the disappointment the players went  through. I've been part of three changeroom moods like that now.  It will hurt for a long time," Van Zyl said.
The coach dismissed suggestions the make-up of South  Africa's squad was wrong.
"I don't think we needed anyone else apart from the 15  players we had there," he said.
"For those conditions, it was the right 15, without  question, and it was proven right through the World Cup. We  played some seriously good cricket, barring 10 overs on Friday  night.
"In hindsight, I would have prepared the same way and had  the same personnel."
The 49-year-old former fast bowler believed the current  squad still had it in them to win a future World Cup.
"There's a new team culture, they're definitely taking a new  direction and there's no question they will be number one in the  future and they will still win the World Cup if we all work  together," he said.
"There's a lot of talent in the team, it's important to keep  it together, and all that experience and the lessons they have  learnt should stand them in good stead."
Van Zyl will now exit the coach's role and return to his job  as Cricket South Africa's high performance manager. The  governing body will consider the applications for his successor  over the next fortnight, team manager Mohammed Moosajee said.
Around the Web