For most of his young life Renaldo Parris has worked, fought hunger and slept on the streets with nowhere to turn. Abandoned at a very young age after his parents' death, Renaldo had to fend for himself on his own.
"He has nothing," says Ivy Harris, 64. "He has no documents, no birth certificate. He ain't even know when he born."
Renaldo thinks he is 11 years old. These days when other children go to school, he doesn't. Touched by his plight during the Christmas season last year, Harris took Renaldo under her wing and into her home at Tuschen north, but the lad faces an uncertain future.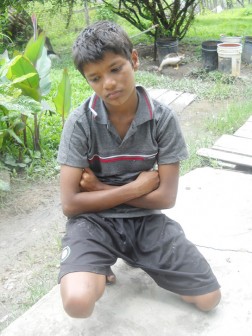 Renaldo rarely smiles. All he remembers of his young life is that his mother, Marilyn Sookram died in an accident. Shortly after, his father, Brian Anthony Parris drank poison and died. When his parents were alive, the family lived at Cornelia Ida on the West Coast Demerara and for a period he attended the Leonora Primary School, he said. After his parents died, he was abandoned by a relative. "Auntie sell the house and gone outside and left me," he said softly and seemingly on the verge of tears. His aunt took his brother and sister and went to live overseas, leaving the lad on the street.
"Me use to sleep on the road," Renaldo said. To survive, he worked with a horse-cart operator with whom he spent most of his days. He loaded the cart with items like ply-board and wood and assisted with other work and was paid.
But late last year, he fell off the cart injuring himself. A discoloured scar on his left cheek is left from where he scraped his face on the road. He was left at the Leonora Diagnostic Centre where a woman from Tuschen saw him and took him home. He stayed with her briefly.
Renaldo stayed at this woman's home for about a month but it was a tough existence. Harris remembers the day she told him that he could come and live at her home. "Dem children beat he up and he was crying," she said. "He had nowhere to turn… I just tell him he can come and is so he's here.
"He used to be around but during the Christmas holiday I get to know him. I got some clothes for him. I carry him to church," Harris recounted. "I always felt sorry for him. Before he was living here I always giving him things… When I took him he didn't have any clothes," she said.
Renaldo moved in with Harris fully in the second week in January.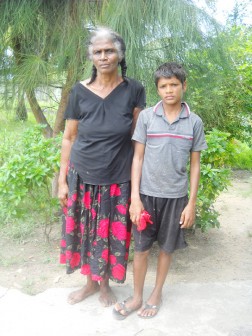 He had nothing, not even his birth certificate. At an age when he should be entering Form One in school, Renaldo does not know how to read and cannot even write his name. He gives a slight nod when asked if he wants to go to school. "If I could send him, I woulda try to send him but they don't take you without documents. You need documents," Harris says. "Where I gon turn for this document? I don't know where to turn for documents for him," she said.
Harris said she is willing to care for Renaldo and send him to school. She sends him to church on Sundays but on the other days, he has little to do. Harris rears some poultry and Renaldo assists with some chores but most of the time, he is free and he likes to run and play with his friends. "I tell him at least he got to learn to sign his name," she said.
Renaldo was fishing on the sea shore and helping another friend to fly his kite when Stabroek News caught up with him last week. It was the middle of the school day and several other children were present; one said that he was not at school because his pants were dirty.
"See how you could help he. He ain't got nothing," a resident said speaking about Renaldo. "Is only because a old lady helping he, he got a place to live."
Around the Web