A 43-year-old man was found dead yesterday morning in a trench which runs parallel to the Enmore Estate Road.
Dead is Maniog Singh, called Davanand, of Foulis, East Coast Demerara (ECD). The man's body was fished out of the trench some time around 7am by residents and relatives.
Seegopaul Budhnarine, known as Tadie, told Stabroek News yesterday that he saw the deceased, who is his brother-in-law, alive for the last time on Saturday around noon. Singh, the man recalled, worked at a vulcanizing shop in Enmore.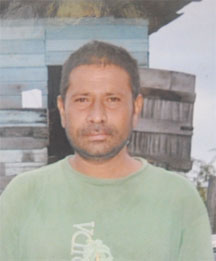 At about 7pm on Saturday, Singh said, he received a phone call informing him that his brother-in-law could not be found. The man said that Singh was with his employer earlier on Saturday evening.
"The two of them been drinking stay-home-darling [white rum] and then Davanand left his house and he went somewhere and then no one didn't see him after," Budhnarine said.
Budhnarine explained that he and several friends went out on Saturday evening to search for his brother-in-law. However, after their attempts turned out to be futile, the search was put off until yesterday morning. However, before the search could resume Budhnarine said that a car driver called to tell them that a body was spotted in the trench.
"When we went there the body was floating and we had to take it out…he [the deceased] could not swim," the man said.
The man further reported that he observed no marks of violence on Singh's body but said that it was strange that Singh would go walking along the estate road.
"We don't believe that anyone did anything to him…he been drinking and he must be just fall in," the man said.
The police have been informed about the incident, Budhnarine said, and are investigating the circumstances. A post-mortem examination is expected to be conducted this morning. The body is currently at the Lyken's Funeral Parlour.
Singh was a bachelor who lived alone at Foulis, ECD. In addition to working at the vulcanizing shop, relatives said, the man also did carpentry, masonry and other related trades.
Around the Web