A Bagotstown, East Bank Demerara businessman shot a suspected burglar who he found in his yard with a knife early yesterday morning.
Susyan Mohamed, the owner of Little Disney, of Lot 25 Bagotstown Public Road, said that he had taken to patrolling his property at nights, after he and other businesspersons in the area started losing items from their yards. Mohamed was awakened around 12:15 am yesterday by his wife, who told him their dogs were barking a lot. A licensed-firearm holder, he armed himself and went to check his premises and discovered a man standing behind his shop. The man's face was covered with a handkerchief, he said, and he had a knife in one hand and something else in the other.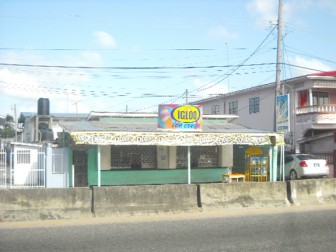 According to Mohamed, he instructed the man to freeze and "drop whatever you got in yuh hand."  However, he said, "He mek a rev up and try to advance me and I fire a shot, a warning shot in the air, and tell he freeze and he try fuh run."
The man scaled the fence separating his living quarters from his business and ran around the side, while Mohamed ran in the other direction and confronted the intruder at the back of his house.  He said the man attacked him with the knife and in defence he shot at him, hitting him in the shoulder. "When you find somebody in you yard you got to protect yourself by all means, you understand. I do what I had to do," Mohamed said.
Immediately after the shooting, he contacte2d the ranks at the Providence Police Station and they took the wounded man to the hospital, while he went to the station to give a statement.
He opined that the slim intruder entered his yard by fitting himself through a small opening at the top of his southern fence, after he was done ransacking his neighbour's yard. He said that gas bottles that were stored behind the shop were probably what the intruder was after and he also suspected that the man had accomplices waiting outside to collect the items.
Mohamed added that he did not recognise the man at first because his face was concealed but later he identified him by his voice as someone who "does be walking in front hey and smoking."  Police later identified the shot would-be burglar as Raymond Mohamed (no relation), 36, of Herstelling, East Bank Demerara. Up to late yesterday afternoon, he was under police guard at the Georgetown Hospital, where he was taken for medical attention. Police said they were investigating the incident.
At the hospital, the injured man was unable to speak and he was crying out for pain. The area where he was shot was heavily bandaged. He also had a wound on his forehead.
Around the Web