A family of three is homeless and millions of dollars are lost in a fire this morning, suspected to be electrical in origin, which destroyed a two-storey building that also housed a store at Meten-Meer-Zorg, West Coast Demerara.
According to reports, the fire started around 7.30 am at the main switch in the bond area of the Savers Bargain Centre, which also housed a Money Gram branch.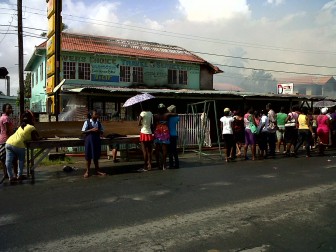 According to Marissa, one of the three persons who lived in the upper flat of the building, when the fire started it quickly spread to the upper flat. She said they called Abdul Hamid, who is the owner of the store, and the Guyana Fire Service and its members took about 15 minutes to arrive. However, when the firemen arrived they had no water to assist immediately and in the end only a shell of the building was left standing. Marissa said they managed to save nothing and according to Hamid he also did not save anything but he said his business was insured.
Around the Web