MOHALI, India, (Reuters) – Pakistan captain Shahid  Afridi cracked jokes and tagged Mahendra Singh Dhoni's men as  favourites as he attempted to deflect the pressure off his team  ahead of their World Cup semi-final against arch rivals India.
A day before Wednesday's high-profile match, Pakistan  decided to skip practice while the skipper amused the media with  his one-liners.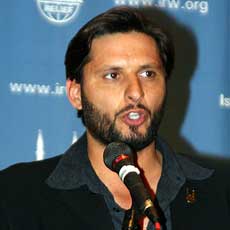 Asked why the team did not train, Afridi replied: "Why, you  didn't like it?"
After drawing hoots of laughter, he added: "We have put in a  lot of effort and today's off was absolutely necessary to save  ourselves for tomorrow. New things should keep happening."
The inspirational captain was on a roll and ticked off the  attributes of his team mates.
"Young team. Average age is less. This is a match which will  increase the average age," Afridi quipped as the assembled  audience once again burst into laughter.
He soon turned more serious.
"The boys are really doing a great job especially the  youngsters. They are ready for this game," he said.
"We really worked hard at the practice session and took  everything very seriously and made sure the boys are enjoying.  We are playing as a unit and I am very happy as a captain."
Although the two neighbours share an intense cricketing  rivalry, Afridi, 31, labelled his team the underdogs for the  match that is being billed as "the mother of all contests" in  the sub-continent.
PLAYED ABOVE EXPECTATIONS
"We are not the most favourite team for this competition. I  think India is the most favourite team. I think we played above  our expectations in this competition," he said.
The build-up to the match has dominated headlines in both  countries, especially as it will be the first time Pakistan will  play in India since 166 people were killed in the 2008 Mumbai  attacks. India blamed Pakistan-based militants for the carnage  and political relations between the countries became tense.  Formal peace talks resumed on Monday.
"It's a big occasion for us that we are playing in India. We  always dream of coming to India and playing here," Afridi said  about the match which will be attended by both the Indian and  Pakistani prime ministers.
"The people here want to see us play and our people want to  see them playing.
"It's a great sign for both countries. I think cricket  always brings these two countries together."
Afridi has led from the front by claiming 21 scalps with his  leg spin, which has put him at the top of the wicket-taker's  list in this World Cup.
But he did not want to take credit for leading his team,  which had appeared to be in disarray less than two months ago  when they lost three of their top players to corruption bans, to  the semi-finals.
"I say and do some emotional things to motivate my boys. We  are an emotional country, in fact, both these nations are  emotional. I don't think I have any credit in taking this team  till here or they being so united," he said.
"When the team does well it is because of the 15 players in  it and it is only then that it plays as a team or a unit."
Around the Web