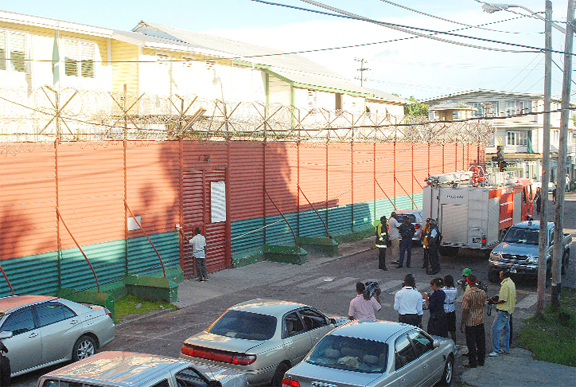 A prisoner was attacked with a piece of wood by a fellow inmate inside the Georgetown Prison yesterday, renewing concerns about weapons in the facility.
Armed robbery accused Randy Joseph, 27, of Buxton, East Coast Demerara, was treated at the prison's infirmary after the incident, which was committed by a prisoner who he had attacked on Saturday night.
When contacted, Prisons Director Dale Erskine told Stabroek News he was unaware of the episode, adding that the Officer-in-Charge of the facility had not yet briefed him for the day. He also said that there are minor incidents which he may not necessarily know about.
Subsequent efforts to contact Erskine were unsuccessful. However, a source at the institution confirmed the incident, and explained that the attacker, identified as an armed robbery accused Jermaine Jerrick, was injured on Saturday night during a fight involving Joseph. The source added that Joseph's wounds appeared to be serious but could not say why the remanded prisoner was not taken to the hospital for medical attention.
A woman, who was visiting a relative in the prison, said she witnessed the attack and started hollering after she saw "de juk."
She said shortly after everyone started running out of the "booth"—the area when prisoners would meet relatives. The woman said that Joseph appeared helpless as he had nowhere to flee. "Ah start to holla 'Oh God, prison warden is what goin on?' Like I din seeing double. Fus de boy said is knife and then he seh no like is a wood," she added.
She recounted that while stabbing away at Joseph, his attacker kept saying that he was going to kill him. The wardens, who were present, she added, had to arm themselves with pieces of wood and it took at least three of them to "hold down" the attacker and "paste he to de corna."
The woman recalled that the wounded Joseph was then taken into the building, while she was instructed to leave the compound temporarily.
Another witness said she saw a prisoner chopping away at another, saying "ah gun murda yuh, ah gun murda yuh!" She said that initially no one went to Joseph's aid.
The woman also stated that her son, a murder accused, sustained a puncture wound to the arm after being attacked with a 'juker' on Saturday night. She said it was out of concern that she decided to visit him yesterday.
Meanwhile, Joseph's mother, Hazel Sancho, told Stabroek News that she and her son's girlfriend, Shevon Roache, were booked for a visit yesterday afternoon. They were standing outside the compound waiting to be let in, when they heard Joseph hollering shortly after 1 pm.
She said a woman then exited the prison compound, saying "He shoulda juk dat Randy in deh."
Sancho added that shortly after, she was called into the facility but when she reached the table just inside the gate, the prison warden there instructed that she and Roache go back outside. According to Sancho, the police later arrived at the location but she was still not allowed to enter to see her son. "Ah want to see meh son. Leh meh see what condition meh son in. Even if ah got to pay fuh he go to hospital, let he go to hospital," the distraught woman shouted.
She said she was told that her son was chopped in the face, while her relatives noted that the attacker was always "in some story with somebody." An angry relative shouted, "Why den ain't moving he and putting he in Mazaruni or something?"
Persons at the scene questioned why the men were not separated, since they had a prior confrontation. "How these men getting these things in deh man? It look like a long pointed greenheart wood. Whey he get dat from?" a woman questioned, noting that prisoners continue to be found with weapons despite police searches.
Last February, prisoners Solomon Blackman and Dyal Singh were mortally wounded during a brawl at the Georgetown Prison.
Blackman, an-ex policeman, was confronted by prisoners shortly after he had attacked Singh. Both prisoners were murder accused and Blackman was said to be of unsound mind.
Overcrowding and the availability of sharp implements in the prisons have been cause of concern for years.
Around the Web