A couple claiming that they were "the parents" of Renaldo Parris turned up at his home at Tuschen on Sunday but left without him after he cried and refused to go with them and the Child Care and Protection Agency is looking in his circumstances.
According to Ivy Harris, the woman who took Renaldo into her home, the couple arrived at her doorstep saying they had seen the article about the boy in the Sunday Stabroek and they were his "parents". She said she spoke with them but did not believe them and Renaldo cried and said he would not go with them when the idea was suggested.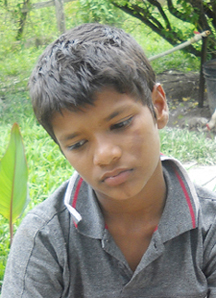 Harris said she did not trust the appearance of the man. She recounted that the couple said they were from Leonora and that they would return.
Renaldo appeared to know them, she said, surmising that they could have been people he knew when he worked with a horse-cart operator previously. She said that Renaldo bore no resemblance to the man or woman.
The Child Care and Protection Agency of the Ministry of Human Services has since contacted this newspaper for information on how to get in touch with Harris.
After reading the story in the Sunday Stabroek, several other persons have contacted Stabroek News and pledged assistance for the lad and offered to help with his education and even adopt him. Some persons have already given food items and clothes and offered further assistance, Harris said yesterday.
Renaldo had told this newspaper that after his parents died; he was abandoned by an aunt and lived on the streets while working with a horse-cart operator.
After he was injured in an accident late last year, he was left at the Leonora Diagnostic Centre where a woman from Tuschen saw him and took him to her home. However, he had had a difficult time there and was beaten up by the woman's children.
It was after one of these episodes that Harris told him he could live with her. "Dem children beat he up and he was crying," she had recounted. "He had nowhere to turn… I just tell him he can come and is so he's here".
A resident had told this newspaper about the boy's plight and mentioned that he did not go to school. Renaldo said that he did not know to read or write and had only attended school briefly.
Around the Web