COLOMBO, (Reuters) – Sri Lanka advanced to the  World Cup final for the third time today after stopping New  Zealand from pulling off their second upset of the tournament.
Sri Lanka, set a modest 218 for victory, were cruising at  160 for one but lost quick wickets before recovering to win by  five wickets with 13 balls to spare.
The 1996 champions will play the winners of Wednesday's  semi-final between Pakistan and India in Mumbai on Saturday.
"The pressure was building a bit," Sri Lanka captain Kumar  Sangakkara said at the victory presentation. "We lost quick  wickets.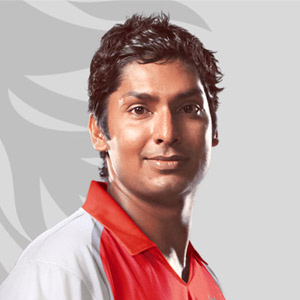 "All credit to the bowlers, we had a loose period in the  middle but we managed to pull it back. The score was heading  towards 240, we managed to keep it to 220.
"Our fast bowlers have been performing and on our tracks our  variety is very hard for the opposition to face."
New Zealand, who defeated South Africa in a similar  situation in the quarter-finals, have now reached the  semi-finals six times without advancing further.
"We lost too many wickets at the end," said captain Daniel  Vettori, who will now relinquish the captaincy after four years  in charge. "We scrapped very hard and gave ourselves a chance at  the end but we just missed out."   Sri Lanka appeared to be heading for another easy win with  Tillakaratne Dilshan and captain Kumar Sangakkara well set.
MINI-COLLAPSE
Dilshan's dismissal for 73 started a mini-collapse with  Mahela Jayawardene (1) and Sangakkara (54) falling in quick  succession.
Angelo Mathews, batting with a runner after a thigh strain,  relieved the tension with a huge six as Sri Lanka thankfully  crossed the finishing line.
All-rounder Mathews, who left the field during the New  Zealand innings said he would apply ice to the injury and  reassess it on Wednesday.
Scott Styris anchored New Zealand's 217 from 48.5 overs with  a dogged 57 from 77 balls, before he was lbw to the last ball of  Muttiah Muralitharan's final match on home soil.
Muralitharan, 38, the world record holder for test and  one-day wickets will retire after Saturday's match.
"This was my last game at home and I got my last wicket with  my last ball," he said. "The same thing happened to me in test  cricket as well. Hopefully our boys will give me a good  sendoff."
A delighted crowd at the R Premadasa Stadium, who had been  temporarily silenced by their team's collapse, applauded  Muralitharan as he walked around the field after the match.
Sangakkara, who was named man of the match, acclaimed  Muralitharan's contribution to Sri Lanka.
"He is an icon of Sri Lanka as a champion on the field and  off the field, as a human being and as a cricketer," he said.
"I don't think there's anyone out there who matches him, he  is a fantastic performer, he is a fantastic human being and he's  the ultimate team man."
Around the Web