A fire of unknown origin yesterday morning in Stewartville has left four people homeless.
Lucille Ramnandan, 60, of Lot 5 Stewartville, West Coast Demerara, her son,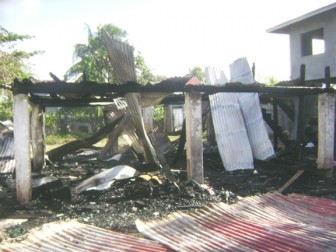 her brother and another female are at a lost as their home was completely destroyed in the 11 am blaze.
When this newspaper visited the scene yesterday afternoon the remains of the two-storey house was still smoking. Ramnandan who was sitting next door chatting with neighbours told this newspaper that no one was at home when the fire began.
According to the neighbour, she was inside and when she came out she saw the building next door aflame. The woman said she quickly alerted other residents. Calls were made to the fire department but by the time the fire truck showed up it was too late to save the building.
Ramnandan said she learnt that her mentally disabled son and the female were at home but had left the house before the fire started. "No one was at home and everything lost; down to the parrot burn up. Me get stupid when I hear," Ramnandan said.
The woman and her son are currently staying at relatives a few doors down from the fire. Ramnandan said she is the sole care giver for her son who is said to be in his 30s. The woman said her son's medication has been destroyed in the fire.
Around the Web