Relatives of a Bush Lot, West Coast Berbice resident who left home 10 days ago are worried that he has not returned and that calls made to his cellular phone have gone unanswered.
They told this newspaper that although Ramsook Ramdeo, 41, called 'Ush'
or 'Cecil,' a truck driver, was a habitual drinker he never stayed away from home so long.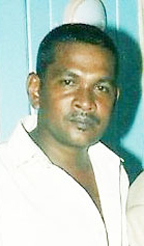 They reported the matter to the Fort Wellington Police Station and ranks promised to alert the other stations.
His wife, Meena Bhagwandin said he left home around 4 pm on March 19 in a taxi to deliver scrap metal worth $10,000 to Sussex Street, Charlestown.
She said the driver of the taxi told her that the car broke down on the East Coast and they got to their destination around 8.30 pm.
The taxi would normally wait on him and take him home. But the driver told her that he sent him away, saying he did not receive his money for the items and would come up later.
Bhagwandin said she later contacted persons at the Sussex Street address and was told that her husband had collected his money and left.
The woman is pleading with persons who have information on her husband's whereabouts to contact her on 694-6346 or the nearest police station.
Around the Web