The Ministry of Housing and Water has offered a 14-day reprieve to squatters living along the Herstelling sea dam and urges those living along the sea dam at Farm to relocate so that crucial sea defence works can be carried out.
According to a Govern-ment Information Agency (GINA) press release Minister of Housing and Water Irfaan Ali said Herstelling squatters must relocate as they are in a zero-tolerance zone and are impeding infrastructural works necessary to prevent flooding during high tide. This is particularly important as Guyana is currently experiencing unusually high tides.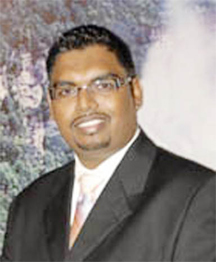 In outlining the ministry's position, Ali noted that three removal notices were served to the squatters and several of them have given reasons why they have not complied. An inventory carried out last year revealed that there were 45 households settled on the dam. "Of the 45 squatter homes, from then to now, 15 of them were allocated houselots and they removed. Residents in the area communicated to the ministry that some of the remaining people had houses elsewhere, so they had to be investigated," he said.
Of the remaining 30, investigations have revealed that eight to ten of them had houselots but were still squatting; four have refused to be interviewed for a houselot application and 10 did not apply because "they did not like the area in which the lots were to have been distributed."
The minister said that the remainder only applied for houselots in the last quarter of 2010, explaining that "squatting is not an excuse for preference." Ali also invited squatters who have not yet been allocated houselots to attend the 'One Stop Shop' exercise today at the Wales Community Centre for allocation at Belle West, Canal Number Two, West Bank Demerara.
In addition, Director of the Settlement Regularization Department, Gladwin Charles has refuted claims in some sections of the media that the ministry plans to demolish the homes of squatters on the sea dam at Herstelling and Farm without first making provisions for their relocation. Charles told GINA that while the squatters must relocate from the reserves the ministry is working with them to ensure that they are given lots in available housing schemes.
The Central Planning and Housing Authority served the final notices to East Bank Demerara squatters on Tuesday and while several of them have applied and received houselots and some have started building; others are waiting for confirmation from the ministry to start construction. Charles noted too that while a few persons have applied for lots they have not checked the status of their applications and these persons seem unwilling to move. He said while officers were serving final notices at these locations on Tuesday a structure was in the process of being erected on the reserve, which was stopped as, whenever possible, his office will prevent new structures from being erected.
Charles said too the ministry remains ready to assist persons with relocating. He is further encouraging the remaining squatters to heed the warnings that have been issued both by the Housing Ministry and the Ministry of Public Works' Sea Defence Department that squatting on the sea dam is dangerous as it poses a risk to life and livelihoods and it prevents crucial sea defence works from being carried out.
Around the Web