NEW DELHI, (Reuters) – Key moments from India's  29-run victory over Pakistan in their World Cup semi-final in  Mohali today.
TOSS
India captain Mahendra Singh Dhoni won an important toss but  created a minor furore by leaving out off-spinner Ravichandran  Ashwin and opting for left-arm paceman Ashish Nehra.
Dhoni admitted later he had misread a pitch which got lower  and slower but Nehra fully justified his selection with two for  33 from 10 overs.
Pakistan decided to stick with Wahab Riaz instead of Shoaib  Akhtar, another correct decision as the strong left-arm fast  bowler took five wickets in an innings for the first time in an  ODI.
RIAZ SPELL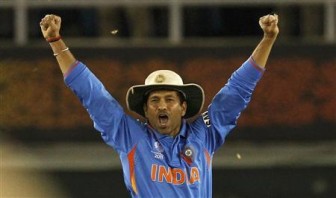 At 48/0 in the sixth over, India were close to pushing  Pakistan over the edge.
Riaz, bowling with an angular action close to the umpire,  bowled wicket to wicket with good pace and bounce. He dismissed  Sehwag leg before and produced the delivery of the match to york  Yuvraj Singh for a duck and finish with figures of 5-46.
TENDULKAR INNINGS
Sachin Tendulkar benefited from an overturned lbw decision  and a stumping appeal which went to the television umpire on 23  plus missed catching chances on 27, 45, 70, and 81.
He did go on to score 85 but lost his fluency and the Indian  innings lost its momentum which was restored only by Suresh  Raina at the end.
PAKISTAN START
Pakistan at last got away to a good start, reaching 44  before a wicket fell with some fluent shots to the boundary and  several false efforts which landed in no man's land.
MIDDLE ORDER SLOWDOWN
The vastly experienced Younus Khan (13 from 32 balls) and  Misbah-ul-haq (56/76 balls despite a late flourish) took their  time to settle down and struggled to rotate the strike.
The run rate accordingly rose from a comfortable 5.2 which  put added pressure on the lower middle order who lost their way.
Around the Web