Two weeks after a Friend-ship, East Bank Demerara businessman was found dead in Le Repentir cemetery, police investigators have made little progress in the case.
A senior police official told Stabroek News that no suspects have been held and investigators have not been able to gather any information that could lead to a breakthrough.
He said a local telephone provider is currently trying to trace the last calls made to and from Carlos Persaud's cell phone which remains missing.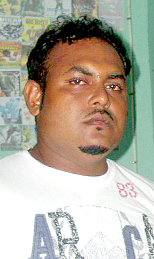 "The police haven't found any clues but work is in progress," he pointed out before adding that the Persaud's relatives aren't giving police much information either.
Persaud, 32, of Friendship, East Bank Demerara left his home on the afternoon of March 11, to buy stocks for a shop he operated in Georgetown.
The man failed to return home that night and his body was discovered with two gunshot wounds in the cemetery the following morning.
Shortly before Persaud's body was discovered his car, PMM 2625, was found in 'C' Field, Sophia, following reports by residents. This newspaper had been reliably informed that an anonymous phone call led to the discovery of the man's body.
The man's relatives had said that they were clueless as to why he was killed. Police investigators had ruled out a carjacking pointing out that the killers took the time to take the man into the cemetery before fleeing with his vehicle.
This, they said, was not the modus operandi of carjackers before pointing out that the aim was to kill Persaud.
When his car was found, everything was intact, leading to even more suspicions that the killing was a hit.
Around the Web