ABIDJAN (Reuters) – Forces loyal to Ivory Coast presidential claimant Alassane Ouattara advanced yesterday to within 200 km (120 miles) of the two main port cities in an intensifying offensive against incumbent Laurent Gbagbo.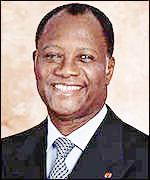 The United Nations said forces loyal to Gbagbo opened fire on civilians in the commercial capital Abidjan on Monday, killing about 10. Gbagbo's government spokesman dismissed the report and said Abidjan was "impregnable" to rebel attack.
But he later called for a "ceasefire" on Radio France International (RFI).
A violent dispute over last November's presidential election that UN-certified results showed Ouattara won, but which Gbagbo refuses to concede, has reignited the civil war it was meant to end. Heavy fighting has erupted in Abidjan and now across much of a north-south ceasefire line. Witnesses and combatants said yesterday that the former rebels, who have controlled north Ivory Coast since the civil war of 2002-3, seized the western towns of Daloa and Duekoue.
From there, they marched on Issia, another cocoa hub around 50 km to the south of Daloa, seizing it with apparent ease. "The (former) rebels entered Issia without any fighting. They are controlling the town," said Issouf Camara, a local cocoa trader.
If they continue south, the road will take them on to the major cocoa exporting port of San Pedro, about 200 km away.
The area they now control produces about 600,000 tonnes of cocoa a year, half national output, which San Pedro ships out.
Pro-Ouattara forces also made progress in the east, near the Ghana border. They took Bondoukou in the northeast before marching 200 km south to, and through, Abengourou unopposed, residents said, leaving them some 200 km northeast of Abidjan.
Heavy fighting also flared in the northern Abidjan suburb of Abobo, which is under control of anti-Gbagbo fighters.
Up to 1 million Ivorians have now fled fighting in Abidjan alone, according to the UN refugee agency and more across the country. At least 112,000 have crossed into Liberia to the west.
In a sign violence in Abidjan may escalate, Gbagbo's army spokesman called on his youths to join the fight.
Gbagbo's often violent youth wing, the Young Patriots, have caused mayhem in the past and have recently set up road blocks everywhere, armed with AK-47s, sticks and machetes. His youth leader invited thousands to enlist in the army last week.
"The hour for their enrolment has arrived," Colonel Babri Gohourou told state TV. "They will be called up from Wednesday."
Young Patriots have targeted UN staff for weeks, beating them, burning UN vehicles and sometimes abducting them.
A Nigerian UN peacekeeper was seized by unknown attackers two weeks ago and remains missing, said two security sources.
"We think one of our soldiers in the Nigerian contingent in Abidjan was kidnapped in the week from 12 to 19 March," said a security sources in Niamey. "The UN is investigating."
Gbagbo's government spokesman Ahoua Don Mello denied an allegation by the UN mission that pro-Gbagbo forces opened fire on civilians in the neighbourhood of Williamsville, killing 10, and reports they use heavy weapons on civilians, which prompted France propose a UN Security Council resolution banning their use.
"We haven't used any heavy weapons to attack the civilian population," Don Mello told Reuters, adding Ouattara's men would be unable to hit central Abidjan because it was "impregnable". But he later said on RFI: "We call for an immediate ceasefire and opening of dialogue."
All previous attempts at dialogue have failed.
Unlike the last war, when French peacekeepers stepped in to stop the rebels advancing on San Pedro, world powers are this time furious with Gbabgo for torpedoing the peace process.
All recognise Ouattara as president and diplomats say they are therefore unlikely to hinder the former rebels' advance.
Around the Web