Fugitive murder accused Rickford La Fleur, who was allegedly nabbed at a 'backtrack' route last Saturday with a quantity of drugs, was yesterday remanded to prison.
La Fleur, 35, also known as Rickford Orlando Williams, Rickford Sabota and  'Bragga,' appeared before Magistrate Adela Nagamootoo at the Reliance Magistrate Court on murder and drug trafficking charges. He was charged with the November 4, 2010 murder of Cleveland Hetemeyer in the Canje River, Berbice. He was also charged with being in possession of two kilogrammes of cocaine and 615 grammes of cannabis at Springlands.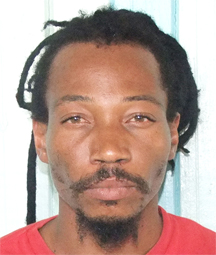 La Fleur, of Smythfield, New Amsterdam, Berbice, was jointly charged along with his cousin, Esmond Bristol, called Esmond La Fleur, with drug trafficking.
They were not required to plead to the charge.
La Fleur was allegedly hiding from police since the murder of Hetemeyer.
Hetemeyer, a logger, was with three other workers when he was intercepted by two armed men, who demanded their boat and engine at Canje Creek. The men pointed a gun at Hetemeyer while accusing him of taking items belonging to them. While he denied their claims, he was shot in the leg.
He then ran towards the boat, which was moored alongside the river at the time but his attackers followed and later shot him in the abdomen. They then escaped with the boat and engine.
According to police, the duo was caught when ranks, acting on information, intercepted them at Shameena Jog Landing, which is an illegal departure site at Springlands, Corentyne.
La Fleur was seen with a black bag, which was later found to be containing substances suspected to be cocaine and marijuana.
The matter has been transferred to Springlands Court for hearing on April 7.
Around the Web