Director of the Government Information Agency (GINA) Neaz Subhan collapsed while at work yesterday morning and after spending several hours at the Georgetown Hospital he was sent home.
Health Minister Dr Leslie Ramsammy, when contacted late yesterday afternoon, said Subhan was in a stable condition and had gone home.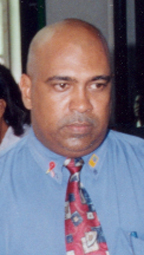 According to the reports reaching Stabroek News, Subhan went into his office and locked the door.
After not seeing him for some time, his secretary called out to him and when she got no answer, she made a check.
The secretary, Stabroek News was told, found Subhan in a crouched position and immediately raised an alarm.
He was rushed to the hospital.
According to a hospital official, the director was taken to the hospital in a semi-conscious state.
Several tests were later done and a CT scan ordered. The official could not say what the results of the tests were or what might have caused the collapse.
Around the Web