As a way of responding to chronic non-communicable diseases like diabetes, and hypertension, the Ministry of Health has developed a 60-second screening tool for all hospitals and health centres in the country.
Minister of Health, Dr Leslie Ramsammy told Stabroek News at the closing of a three-day foot care training for health workers at Fort Wellington on Saturday that the 60-second screening helps with early diagnoses so the diseases can be controlled.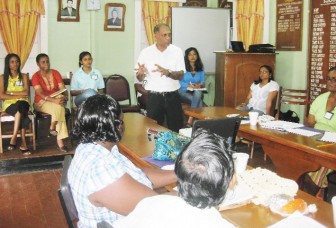 Patients who visit health facilities with headaches or any other problem are automatically screened.
In most cases persons with diabetes or high blood pressure can develop heart disease, kidney problems or eye problems and may even go blind.
The bottom-line, he said is that "all are lifestyle diseases" and if persons are not eating right and are not exercising or are smoking and consuming a lot of alcohol their conditions cannot be controlled.
He lamented that persons have to learn to prevent and manage the problems in their homes.
With regard to the foot care, the minister said that nurses, doctors, medex and other health workers were trained to be alert so as to recognize foot problems early and commence treatment.
"Diabetes itself does not kill you but it is the complications," he noted, adding that the training seeks to prevent foot problems that may lead to amputations.
The programme would be implemented in every hospital and health centre in the country while a "sophisticated foot care centre" was established at the Georgetown Public Hospital.
He said most of the diseases are "silent killers" so persons can actually live with high blood pressure or mild diabetes for a long time without knowing.
Around the Web