UNITED NATIONS/ABIDJAN (Reuters) – The UN Security Council slapped travel bans and asset freezes on Ivory Coast's Laurent Gbagbo and his closest associates yesterday in a bid to force the West African nation's incumbent leader to quit.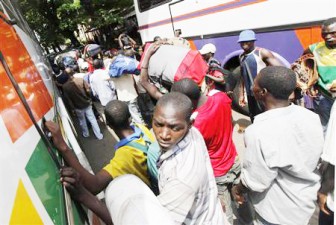 Meanwhile, forces loyal to Alassane Ouattara seized the capital of Ivory Coast and advanced toward the coastal cities of Abidjan and San Pedro yesterday, in a dramatic push aimed at toppling Gbagbo. All 15 council members voted for a resolution that echoes earlier UN calls for Gbagbo to step down and seeks to prevent use of heavy weapons in the main city Abidjan as the world's leading cocoa producer teeters on the brink of civil war.
The United Nations and African organizations say challenger Ouattara defeated Gbagbo in much-delayed presidential elections in Ivory Coast in November. But Gbagbo says he won and has refused to quit, keeping control of most of Abidjan.
The resolution, drafted by France and Nigeria, was passed as forces loyal to Ouattara, moving from their northern strongholds, took   the official capital Yamoussoukro, neared the major port of San Pedro and headed toward Abidjan.
Ouattara's prime minister said there was no room for any further negotiations and that Gbagbo had hours to step down. An annex to the resolution lists the associates subjected to the sanctions as: Foreign Minister Alcide Djedje; Gbagbo's wife and senior figure in the Ivorian Popular Front, Simone Gbagbo; the front's chair Pascal Affi N'Guessan; and the secretary general of Gbagbo's presidency, Desire Tagro.
Around the Web