PNCR Leader Robert Corbin says that his taking a "backseat" in his party's election campaign is not an option, since it is committed to seeing the end of the PPP/C administration.
"No Guyanese, who is interested in progress in this country, should think of taking a backseat in this upcoming election campaign," Corbin said yesterday at a press conference, when asked if he felt should take a less active role.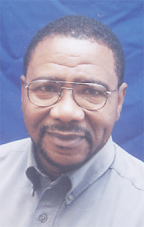 Some members of the public have called for Corbin to take a backseat now that the PNCR has chosen David Granger to be its presidential candidate.
According to Corbin: "Every Guyanese, every member of the PNCR, every member of every opposition party, all Guyanese who have been affected by the excesses of this administration, who are insulted by the behaviour of the President and the kind of maladministration should be fully involved, not half-way but fully involved." He added, "And I intend to work fully to see our president [Granger] elected and to see the back of the PPP in office."
Questioned on the same matter yesterday, Granger said that it was not an issue. "I don't feel overshadowed. I think the party leader knows the role of the presidential candidate and the rest of the party [is] aware of the role and function of the presidential candidate. There is no conflict," Granger said.
Meanwhile, Granger said yesterday that the launch of the party's public campaign is dependent on the announcement of an election date. In the meantime, he said that he has been hosting "mobilisation meetings" across the country. "I am campaigning. I haven't called it that but I am campaigning," he said.  The party, Granger said, is now drafting its elections manifesto.  There is also a campaign strategy team which is headed by Corbin, Granger said.
Granger said too that the other persons who had contested to be the PNCR's presidential candidate have pledged to support his presidential bid.  Prior to the election to select the candidate, each candidate had to sign an agreement saying that they would support whoever won, Granger said. "Everything is going according to our plan. We're quite satisfied that over the last month we've made sufficient headway," he said, while adding that when an election date is announced the party will be on target.
Meanwhile, Corbin said that the party is focusing on getting people registered in order to ensure them the opportunity to vote. He said that as part of their field exercise, party members are helping persons to sort out their source documents so that they could make use of the final slot for registration during the claims and objection period.  This period is slated to commence next month, Corbin noted.
Concerning the Joint Opposition Political Parties (JOPP), Corbin said that talks are still ongoing and that very shortly formal releases will be made. "It is not that we are trying to hide any information," he said. "Anyone who has any experience in coalition matters where you have the views of several parties being brought to bear [would know that] one has to be careful with individual statements being made by participants in that process because they could either be taken out of context," Corbin said.  According to him, "the whole idea is to make sure there is absolute consensus, we know where we're going rather than making statements in an ad hoc manner that can be manipulated by those who would like to see confusion."
The JOPP, which includes the PNCR, GAP, WPA and the NFA, has been pursuing a broad coalition since last July.
Around the Web